Atlanta
Since Adult Swim's inception, the vibrant energy of Atlanta has inspired and amazed us. This city has given us so much, and that's why it's important we give some of that dazzling energy back. With the help of Living Walls, we're giving a platform to Atlanta's most brilliant and talented artists so they can make the city a more inspiring and beautiful place for everyone.
Ariel Dannielle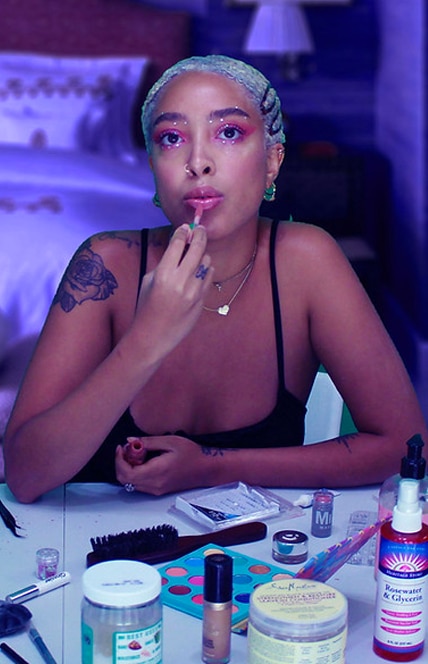 Ariel Dannielle is an African American painter born and raised in Atlanta, GA. She graduated from the University of West Georgia, where she received a Bachelor of Fine Arts. Drawing directly from her life, Ariel creates large scale paintings that depict the daily experiences of young Black women. She believes in the importance of her artwork to provide new lenses through which Black womanhood can be represented, understood, and related to.

Influenced by the work of Kerry James Marshall and Alice Neel, Ariel believes strongly in the power of portraiture. She focuses on developing personal narratives within her portraits that challenge gender and racial stereotypes. By placing herself in her paintings she opens a door to welcome her viewers to participate in a process of introspection.

Ariel's work has been showcased at Mint ATL, The Goat Farm, ZuCot Gallery, Dalton Gallery, TILA Studios, Trio Contemporary Art Gallery, Perez Museum Miami, and California African American Museum. She was a semi-finalist in the Bombay Sapphire Artisan Series 2018, an Artadia 2018 finalist, and has been featured in The Studio Museum Magazine, Voyage ATL, Sorjo Magazine, mentioned in The New York Times, and featured on the cover of the CAAM summer catalog 2019.
SPRING 2022 • WESTSIDE BELTLINE
Longleaf Pine Garden - Across from Best End Brewery
1036 White Street SW
Atlanta, GA 30310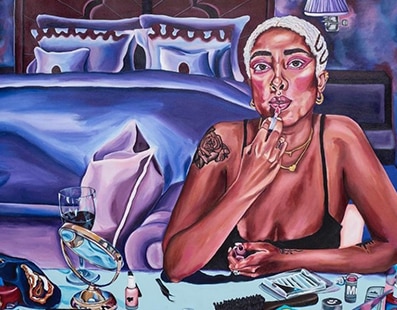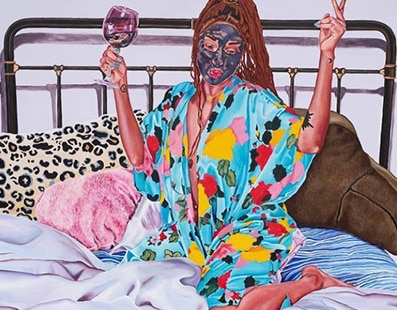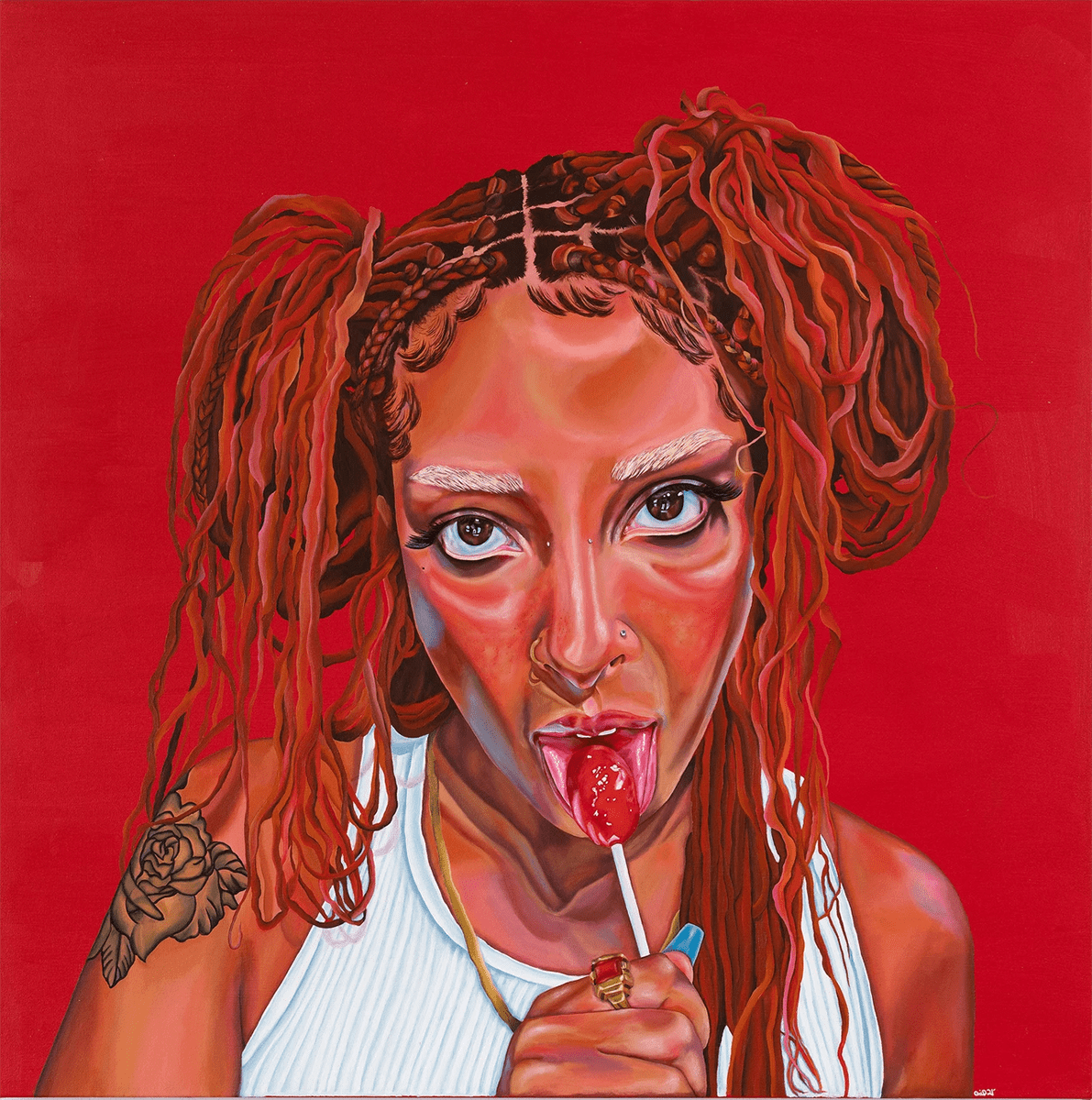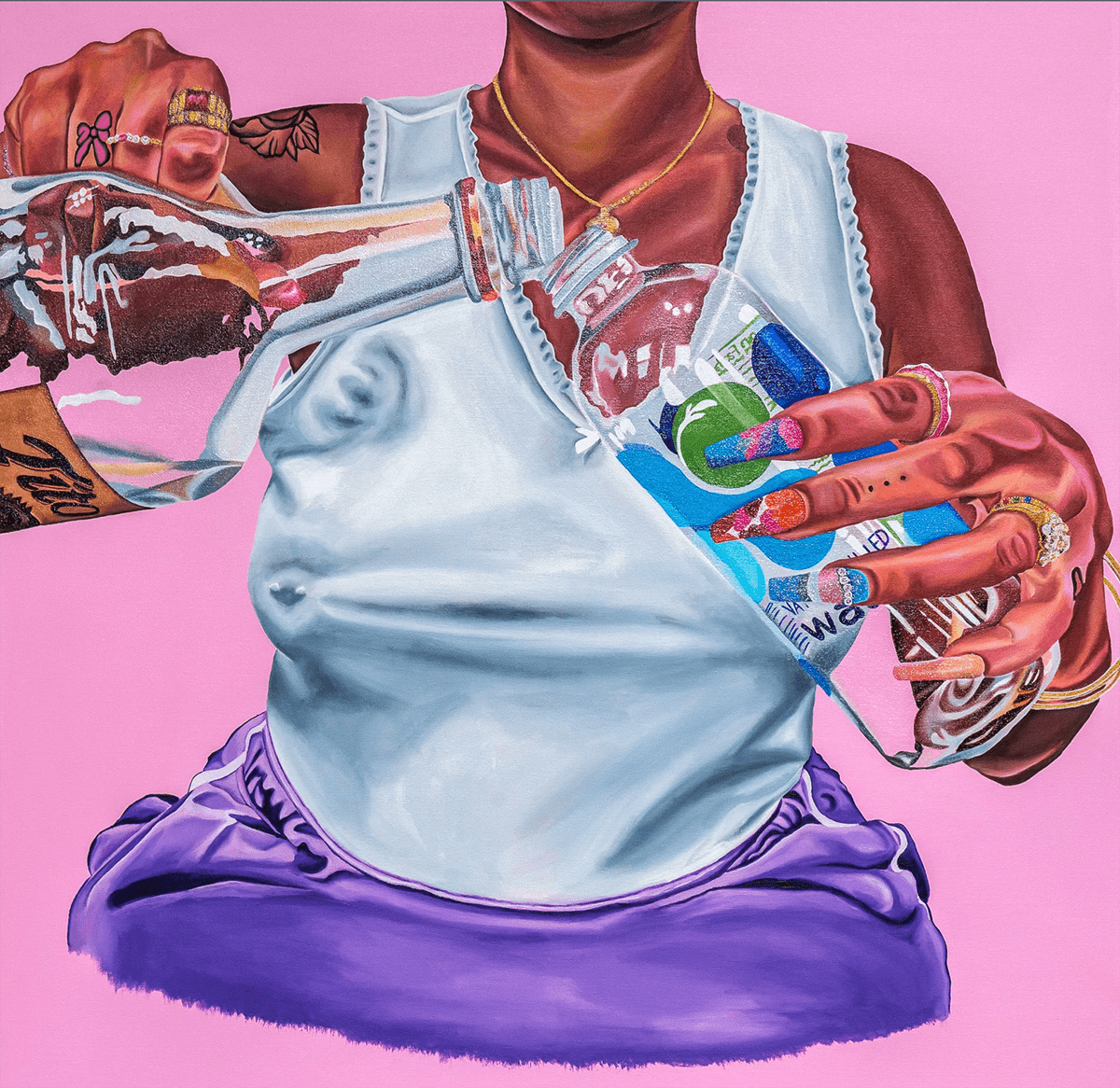 Timothy Short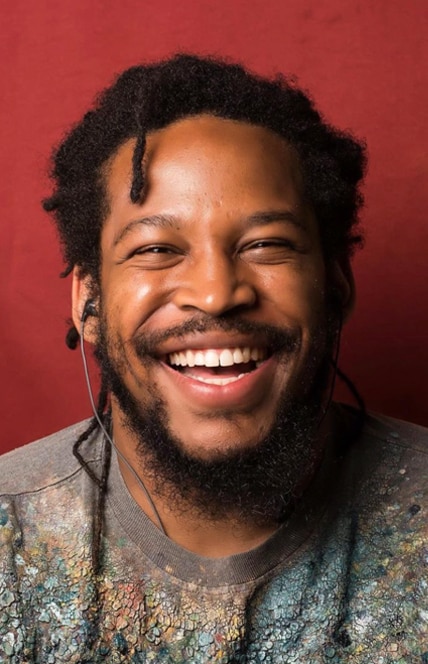 Timothy Short was born and raised in Columbus, Georgia. He moved to Atlanta in order to attend Georgia State and pursue art in 2011. Predominantly as an oil painter, Timothy constructs imaginative narrative spaces always centering the Black figure. These stories are meant to venerate the everyday people close to him, often chosen as models for his work, using cosmological and celestial imagery. By detailing the subjects of the works in darker palettes, associations of lighter colors and spaces with inherent goodness or divinity are subverted and a metaphysical iconography is granted to the Blackness of these universes. Timothy's inspirations are Kerry James Marshall, Toyin Ojih Odutola, and Jordan Casteel amongst many other painters, a host of manga and comics, and great Black music.
SPRING 2022 • DECATUR SQUARE
On the side of Squash Blossom
113 E Court Square
Decatur, GA 30030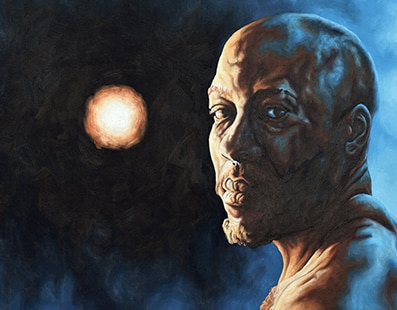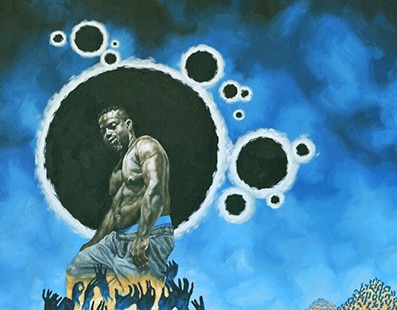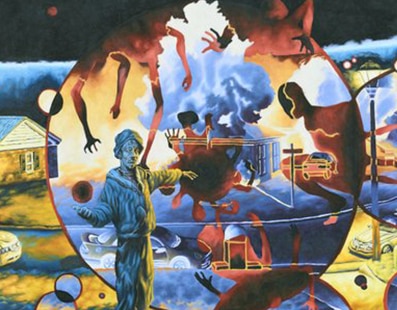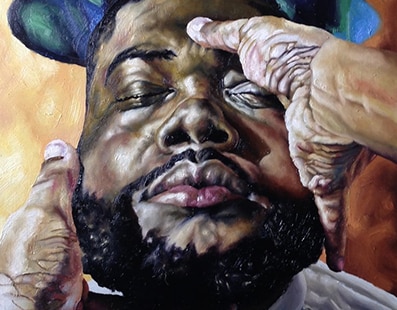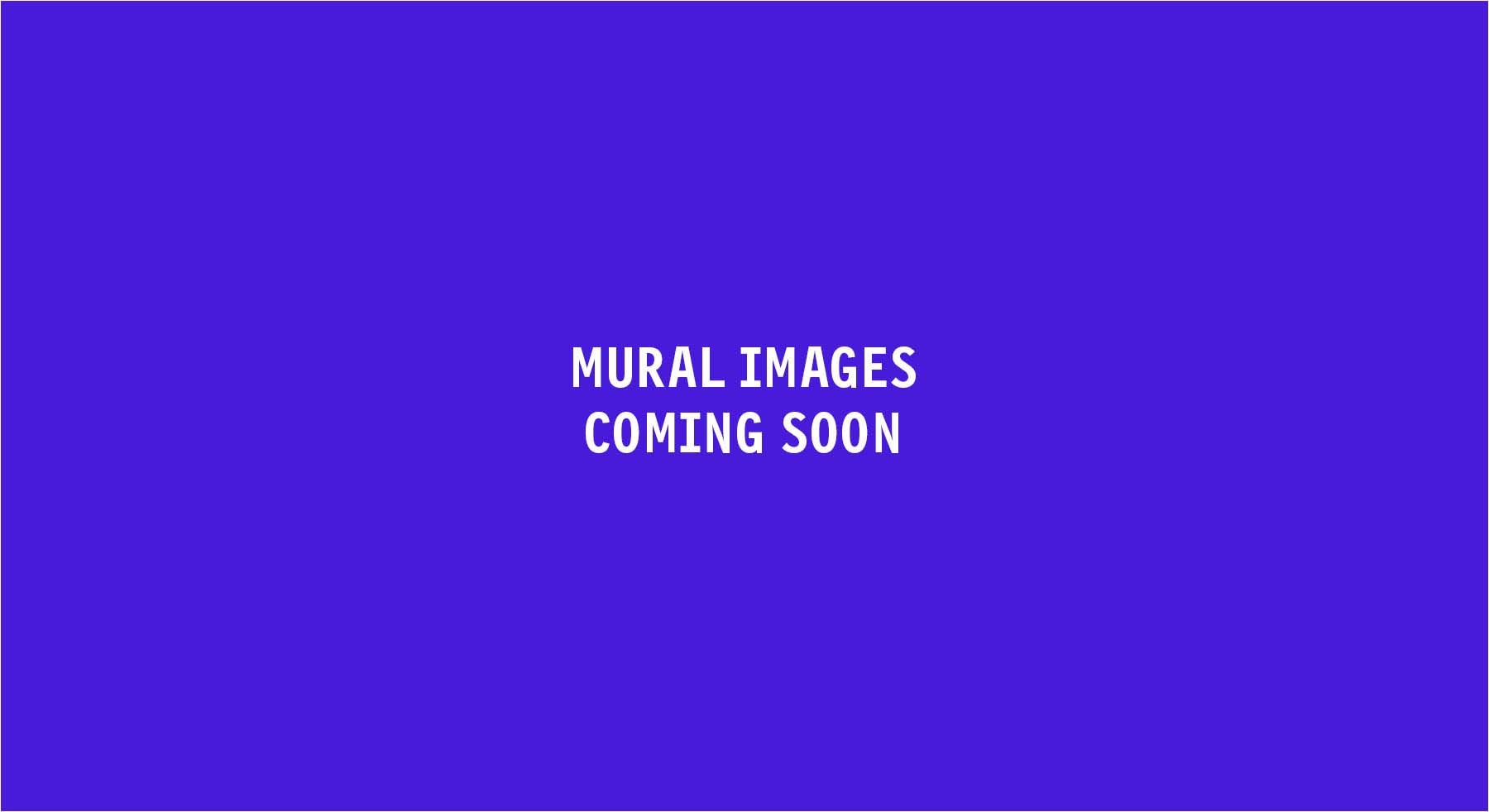 Demetri Burke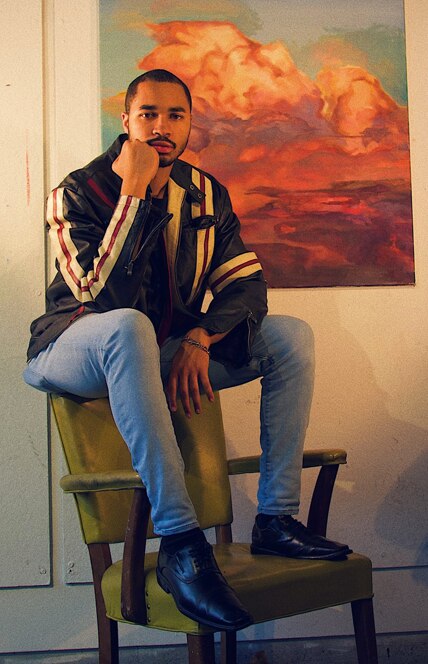 Demetri Burke is a young artist recently receiving a BFA Degree in Studio Art, Magna Cum Laude, from Georgia State University and is currently based in Atlanta, Georgia. His latest highlight includes being featured in the 3rd annual AXA Art Prize Juried Exhibition held in New York Academy of Art, juried by Ian Alteveer, Lauren Haynes, Brett Littman, and Eugenie Tsai. He uses mixed media, including charcoal, oil paint, and found images, to express narratives of identity and culture on canvas. Abstraction, montage, and realistic rendering are key parts in his creation process.

Burke creates an amalgamation of differing motifs and thoughts. His body of artwork is diverse and fluid, never fully standing still for too long. Sometimes the focus is intensely on the Black figure. Other times, he builds layer after layer to create murky images of nostalgia in a southern lens. Everything is unified in its intimacy with the viewer, the depiction of the Blackness, and narratives that wrestle with trauma and affection. He is capturing the world he grew up in along with the world he inhabits now. His constant examination of themes showcases his findings: black like the skin, still like the clouds and hopeful like his mother's smile.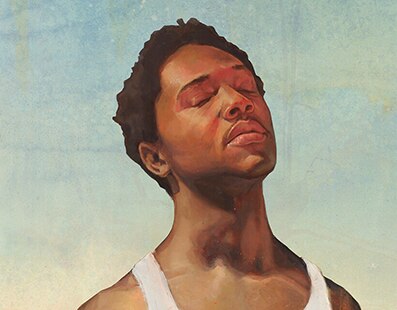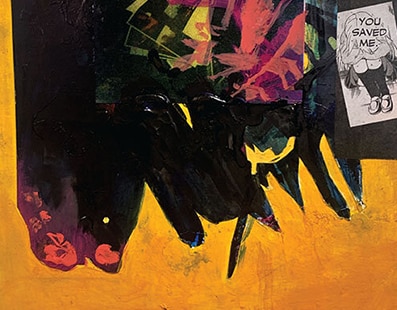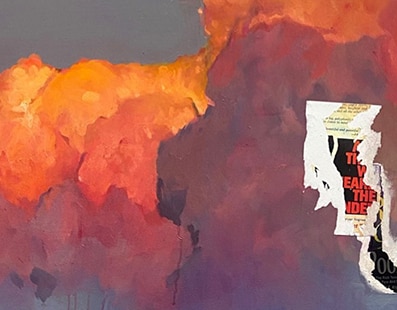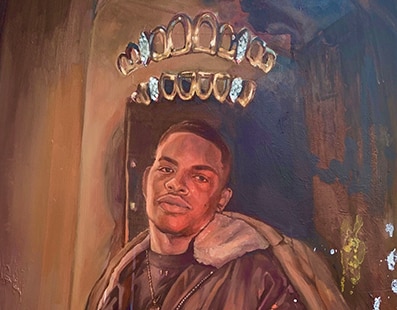 E L Chisolm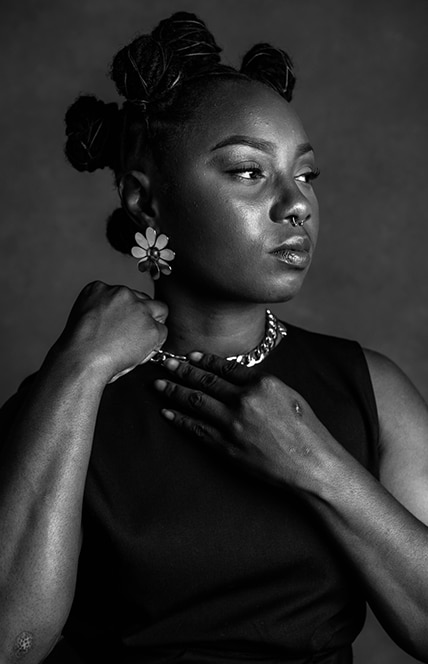 I am E L Chisolm, a fine artist, art activist, muralist, and designer. My works are a reflection of my Black American Experience. I use acrylic paint, decorative paper, twine, and other textural elements on wood surfaces to represent the beauty and imperfections of growing and transforming into a Black American Woman.

In 1908 W. E. B. DuBois, a Black Sociologist, coined the term "double consciousness" to describe an individual whose identity is divided into several facets. Today we call it "code switching". Reflection encourages us to merge our identities and stand in our truth because history has fed us a warped image of who we are. The Bird of Paradise symbolizes freedom, and freedom and success are received through true reflection.
SPRING 2021 • WESTSIDE BELTLINE
Longleaf Pine Garden - Across from Best End Brewery
1036 White Street SW
Atlanta, GA 30310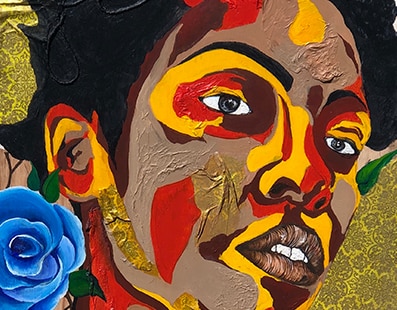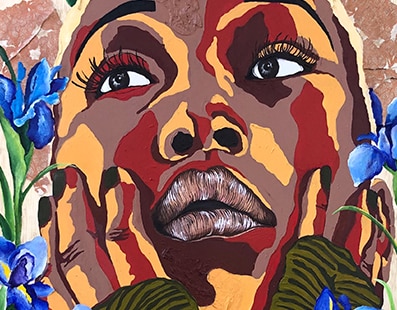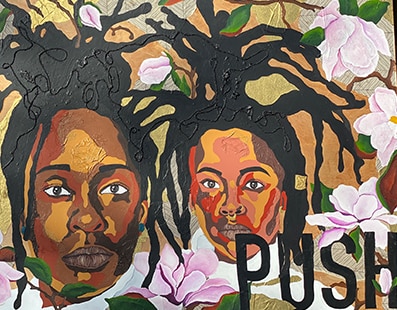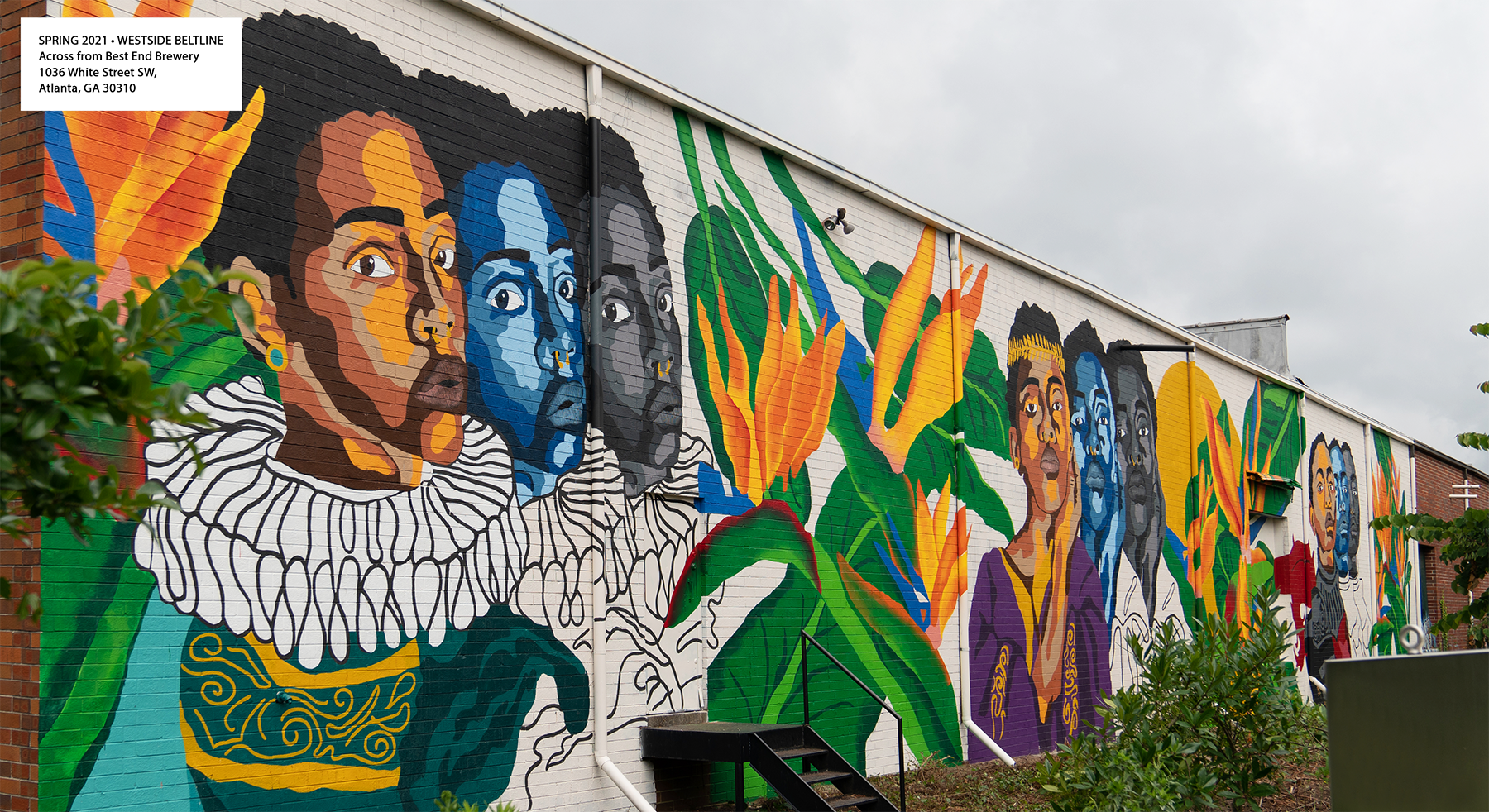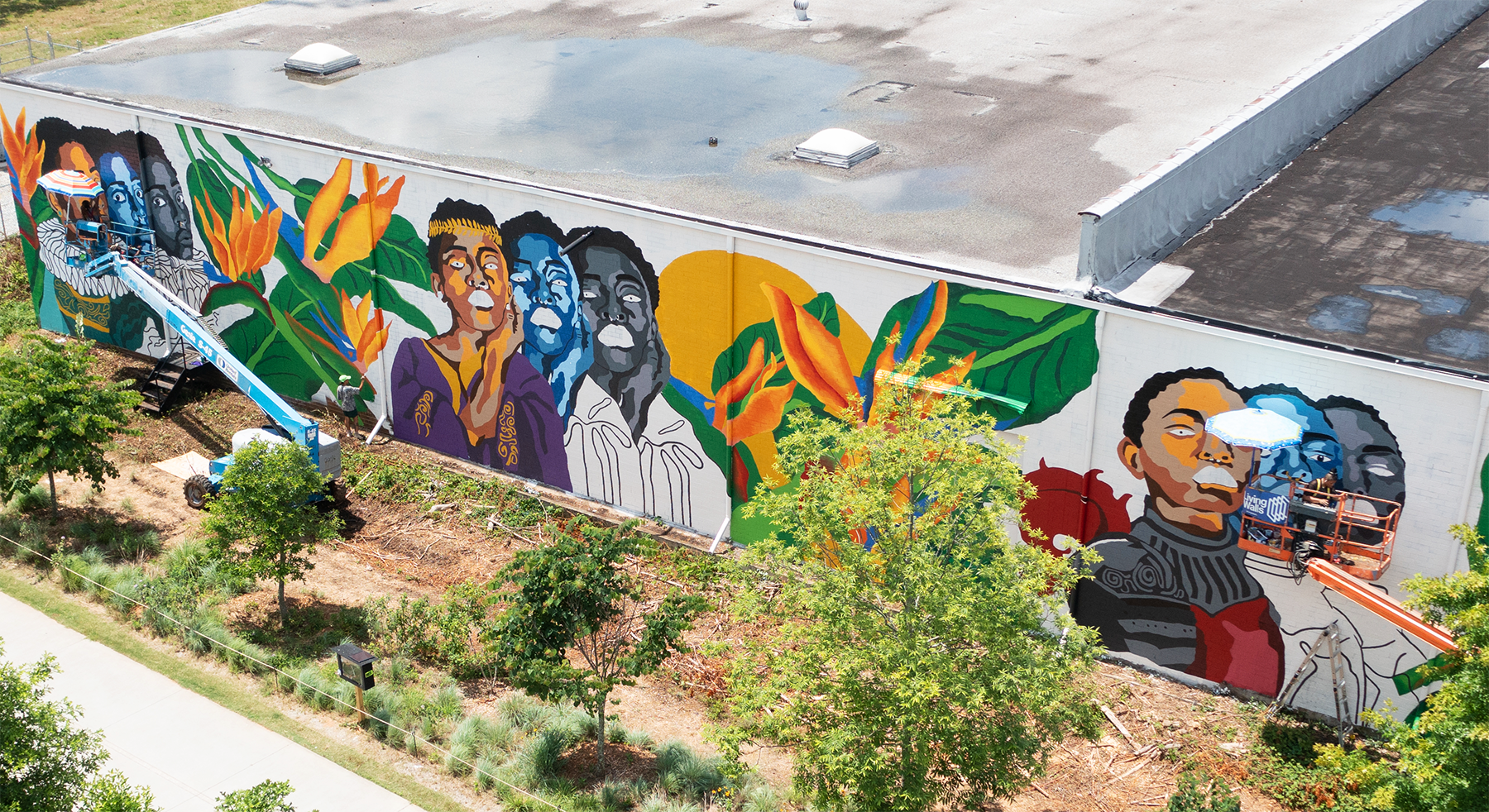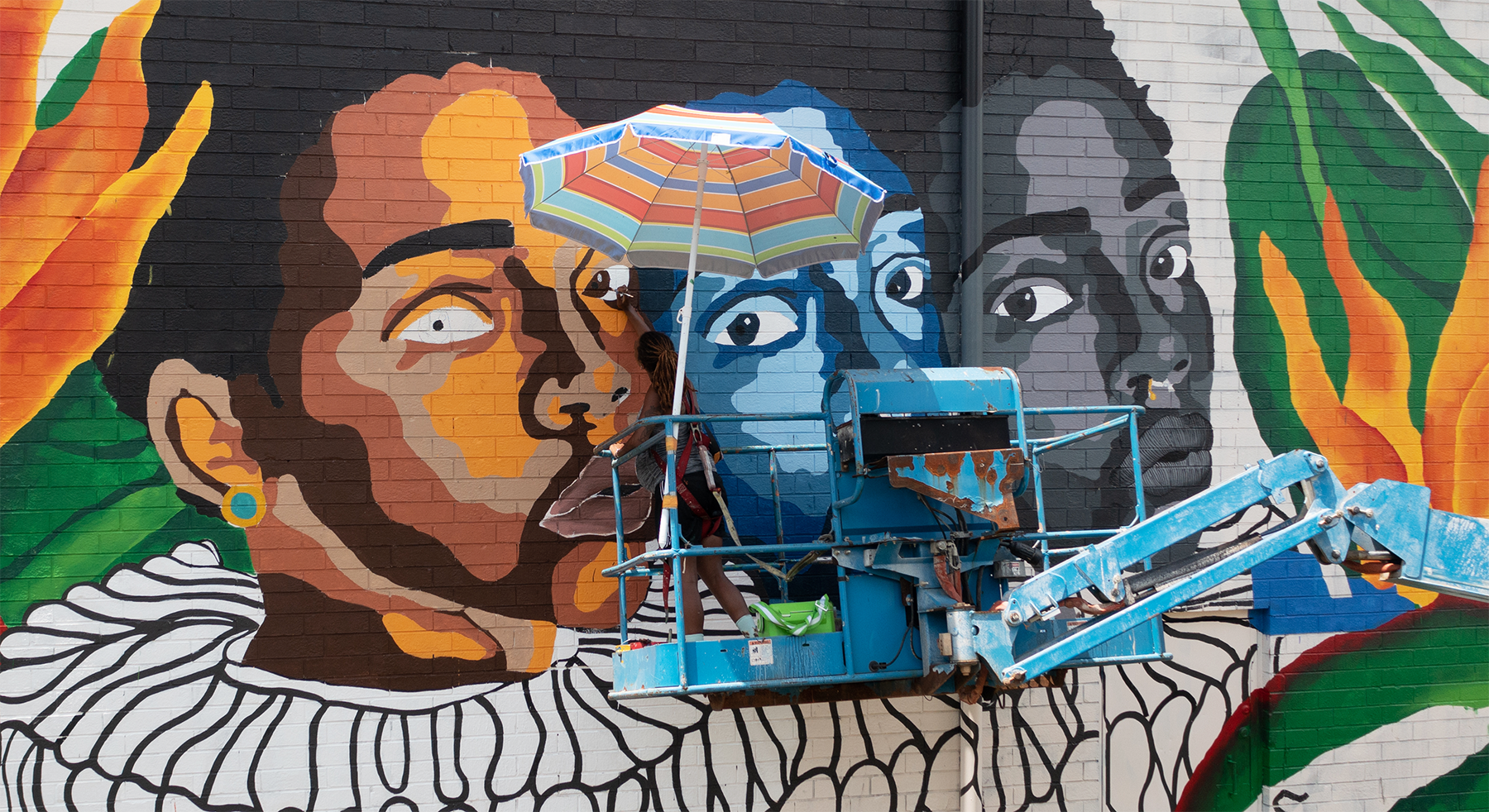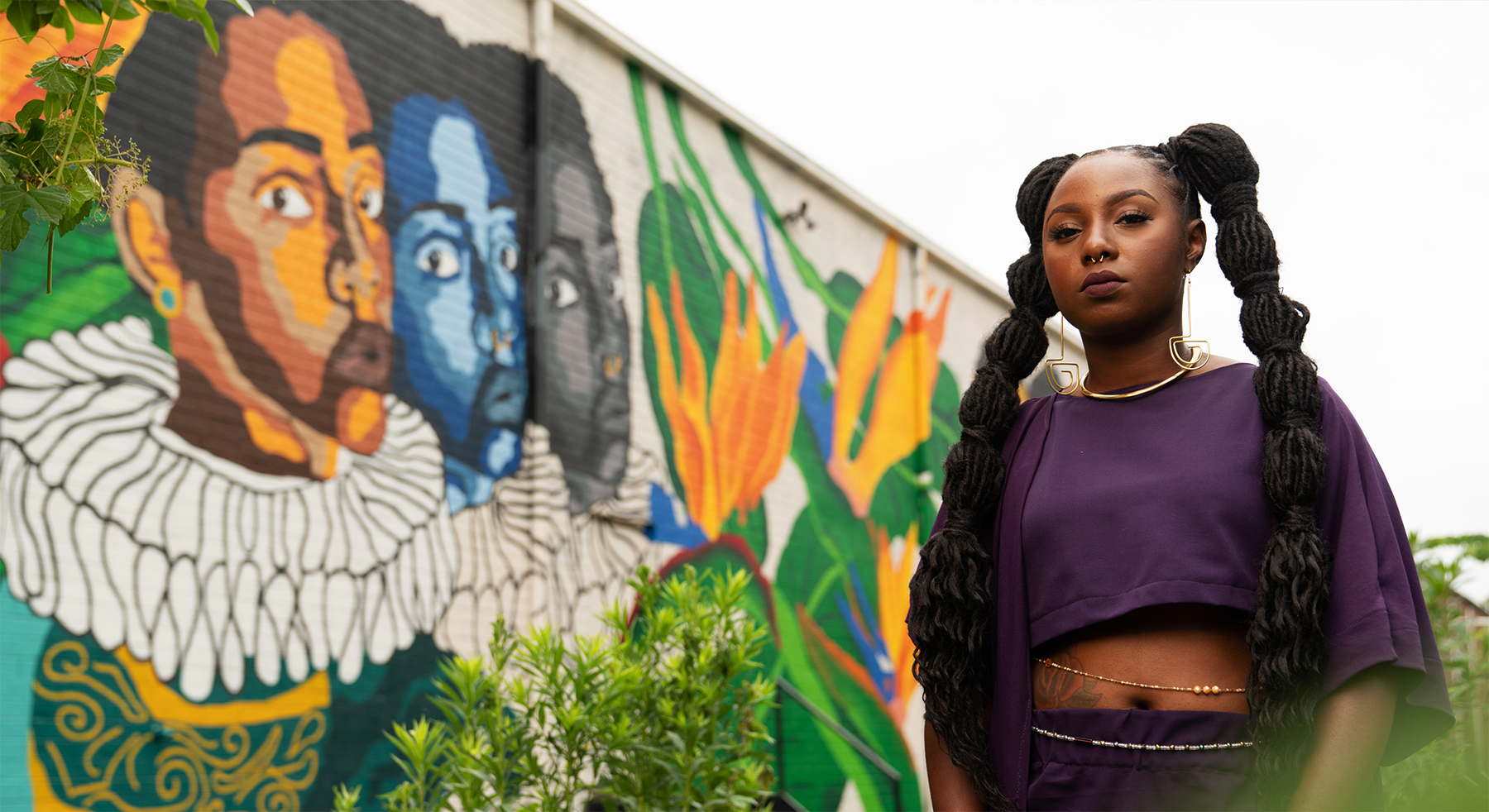 Emmanuel Rivas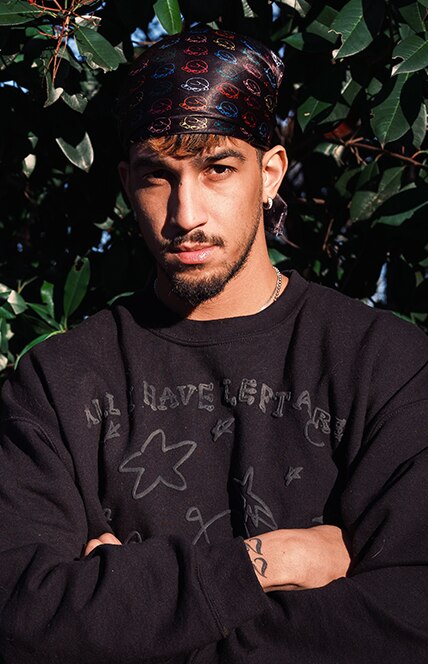 I am a self-taught visual artist. Most of my work broadcasts, "My Inner". Which consists of a pretty grand spectrum of everything; my memories, reflections, convictions, truths, lies, love, hate, emotions, and Everything in between. "Life is given death, a relationship of truth."

The piece is meant to encapsulate the choices we do have in our life, and the ones we have no power over. With more information it breeds more or new choices. It's all about navigating through those choices correctly to make a decisive action moving forward.
SPRING 2021 • DECATUR SQUARE
On the side of Squash Blossom
113 E Court Square
Decatur, GA 30030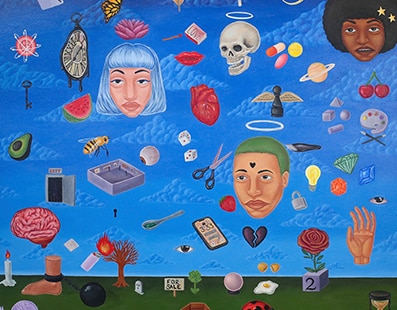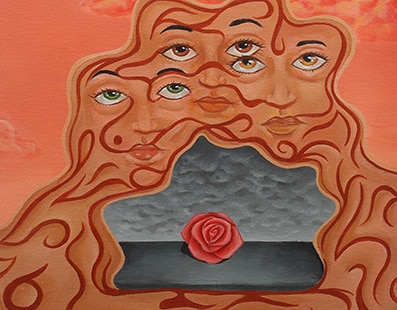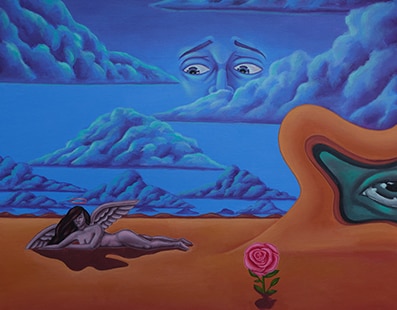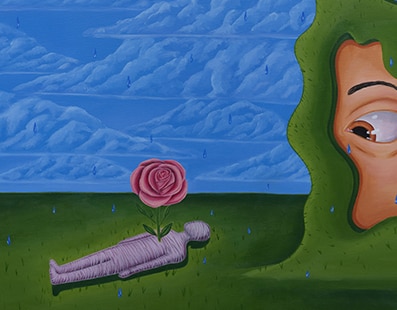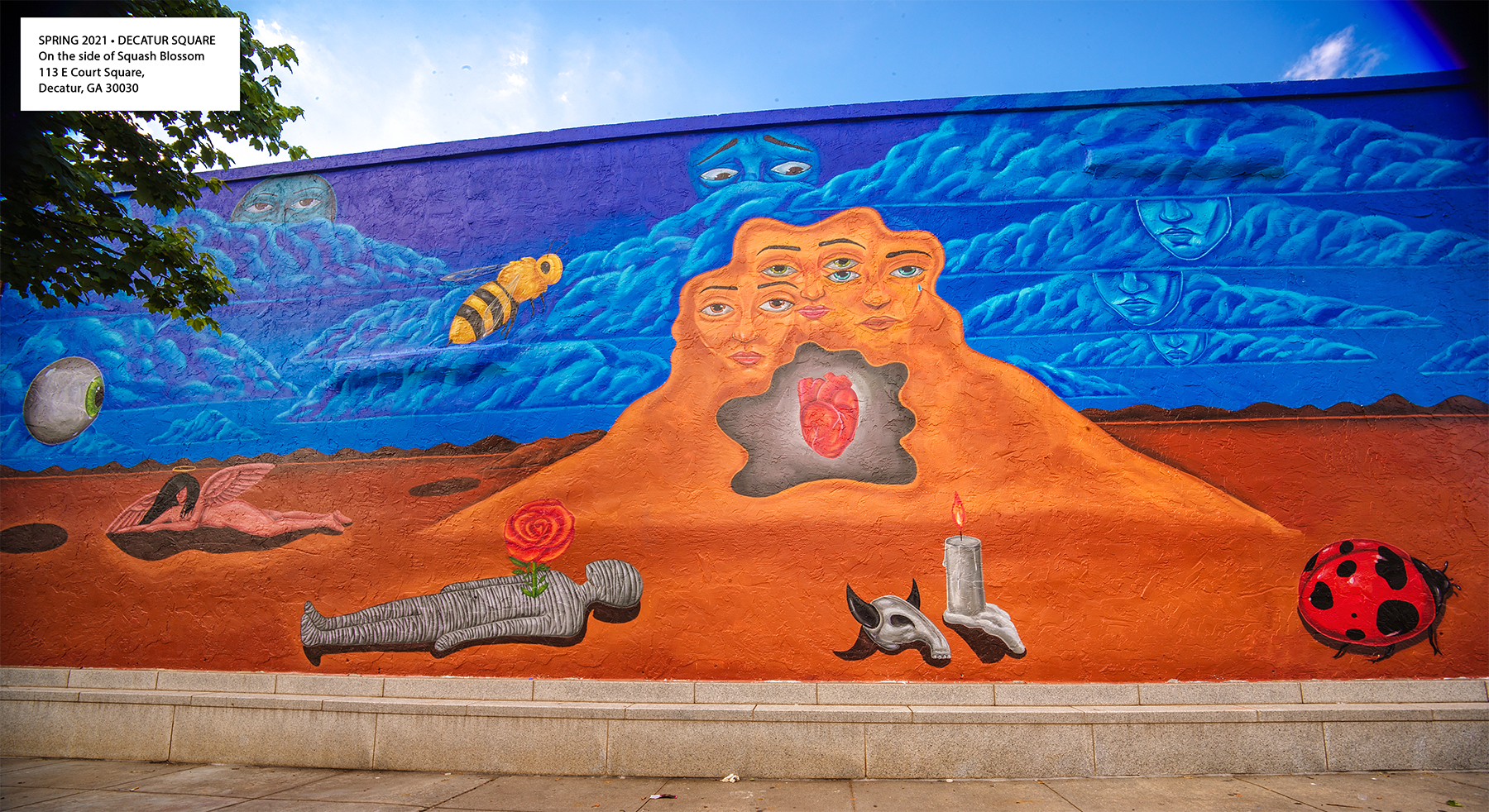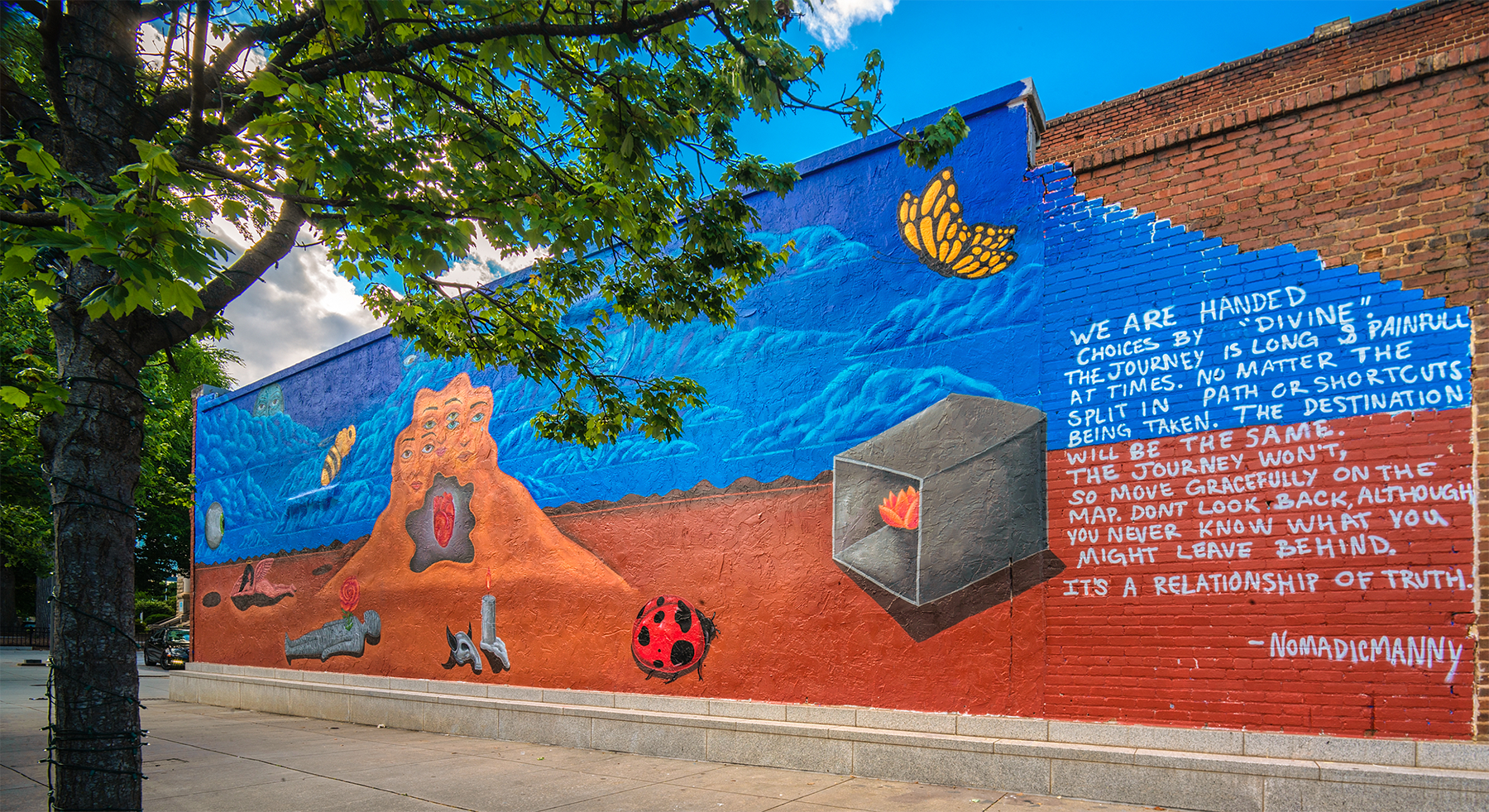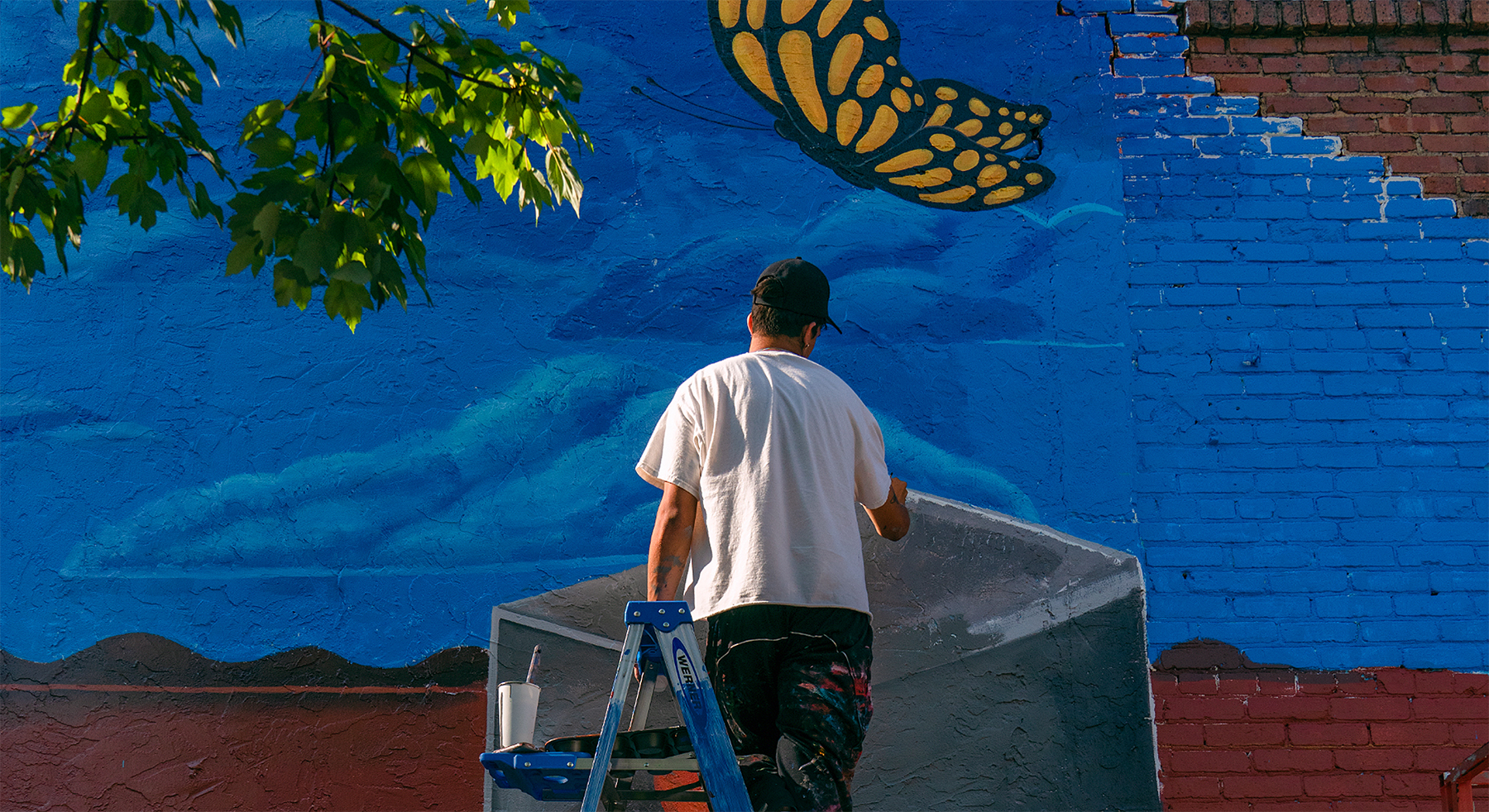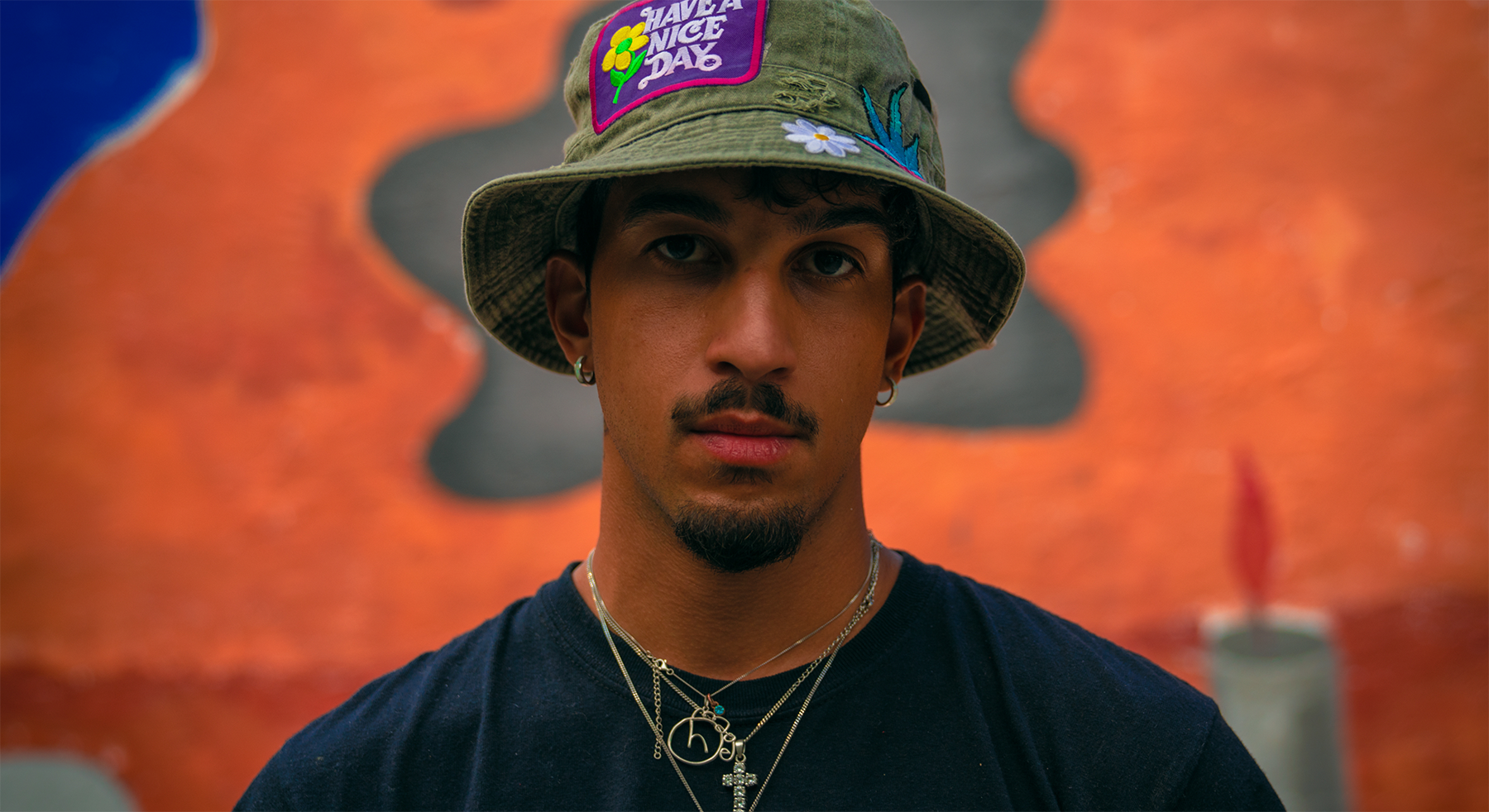 Yuzly Mathurin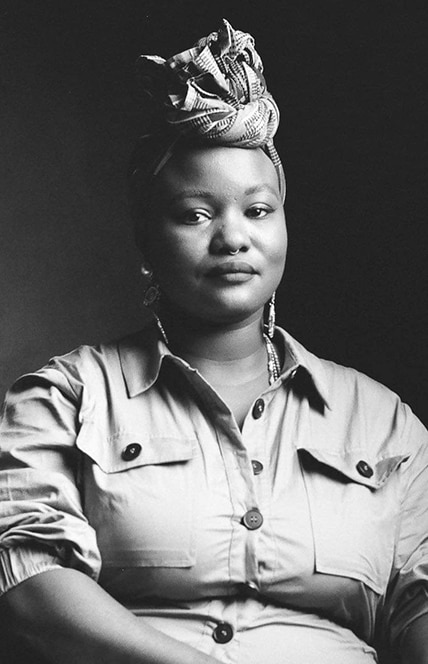 Ingrid Yuzly Mathurin is a Haitian American emerging artist that has been creating & painting for 20 years. Her influences range from the flourishing Harlem Renaissance to the current Hip-Hop culture; from the surrealism of Pablo Picasso to the reality of the Civil Rights Movement. She uses rich patterns, bold colors and strong faces that remind of the vigor of black females, of the resilience of young mothers and of the complexity of people.

She approached this project to create a piece that brings together two cultures which, while notably different, share many common experiences – Black and Asian cultures. This piece speaks to the importance of honoring people of color, regardless of their country or provenience. We won't stop abuse and discrimination until we each learn to accept and celebrate the beauty of difference – whether that's of background, language or skin color.
SPRING 2021 • PLAZA THEATRE COMPLEX
Cleburne Terrace Northeast and Ponce De Leon Ave
Atlanta, GA 30306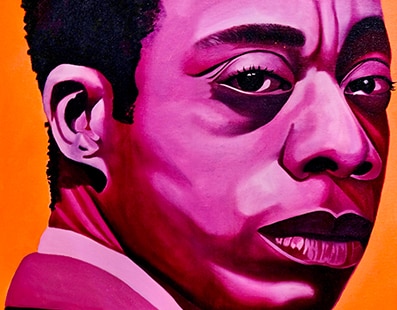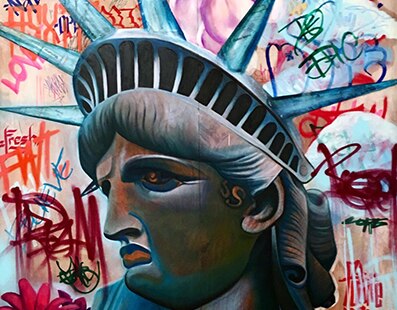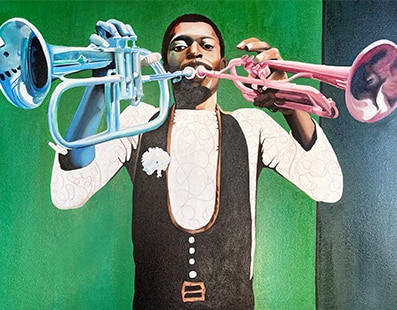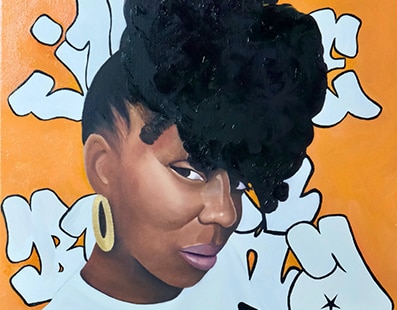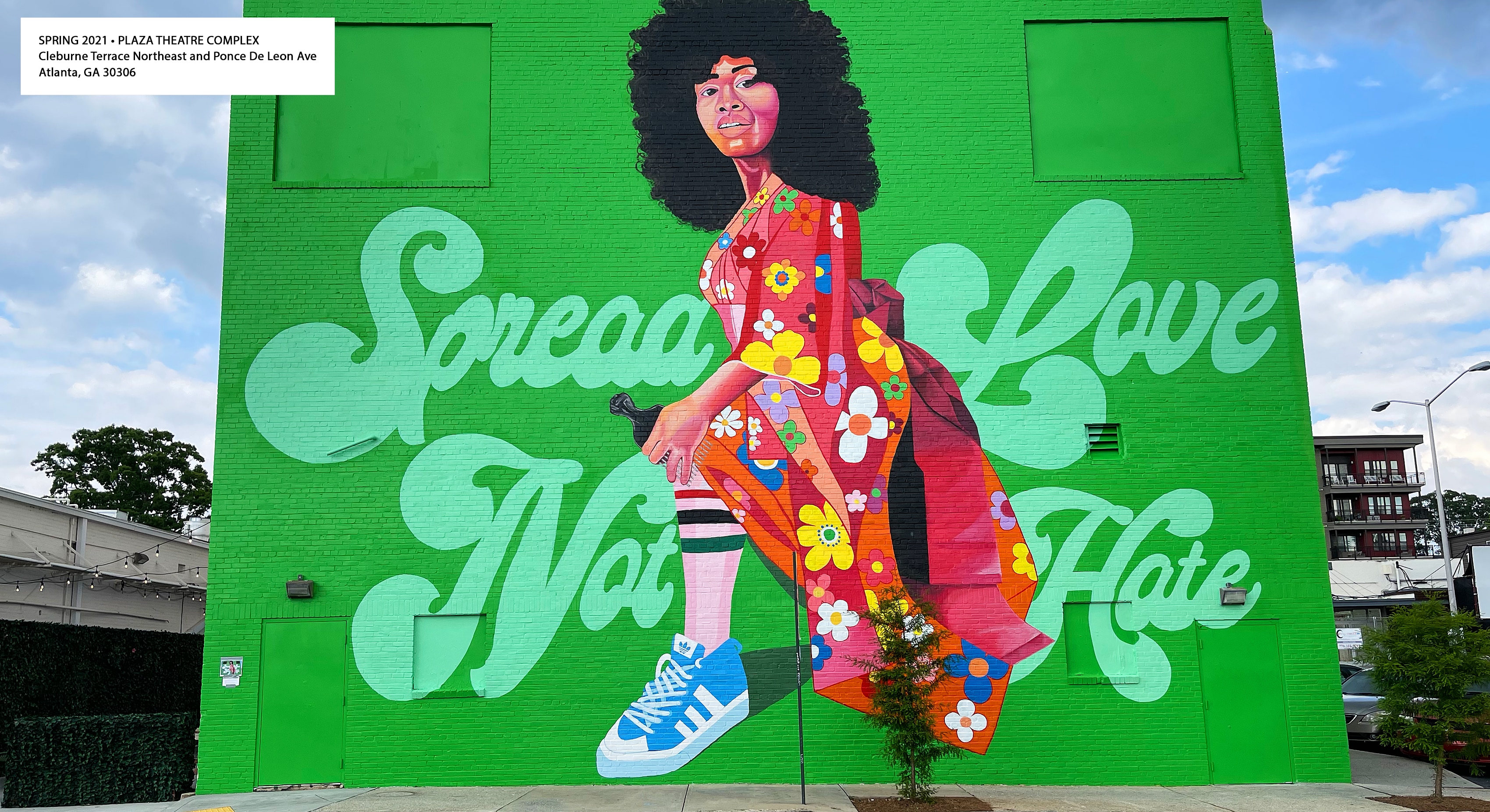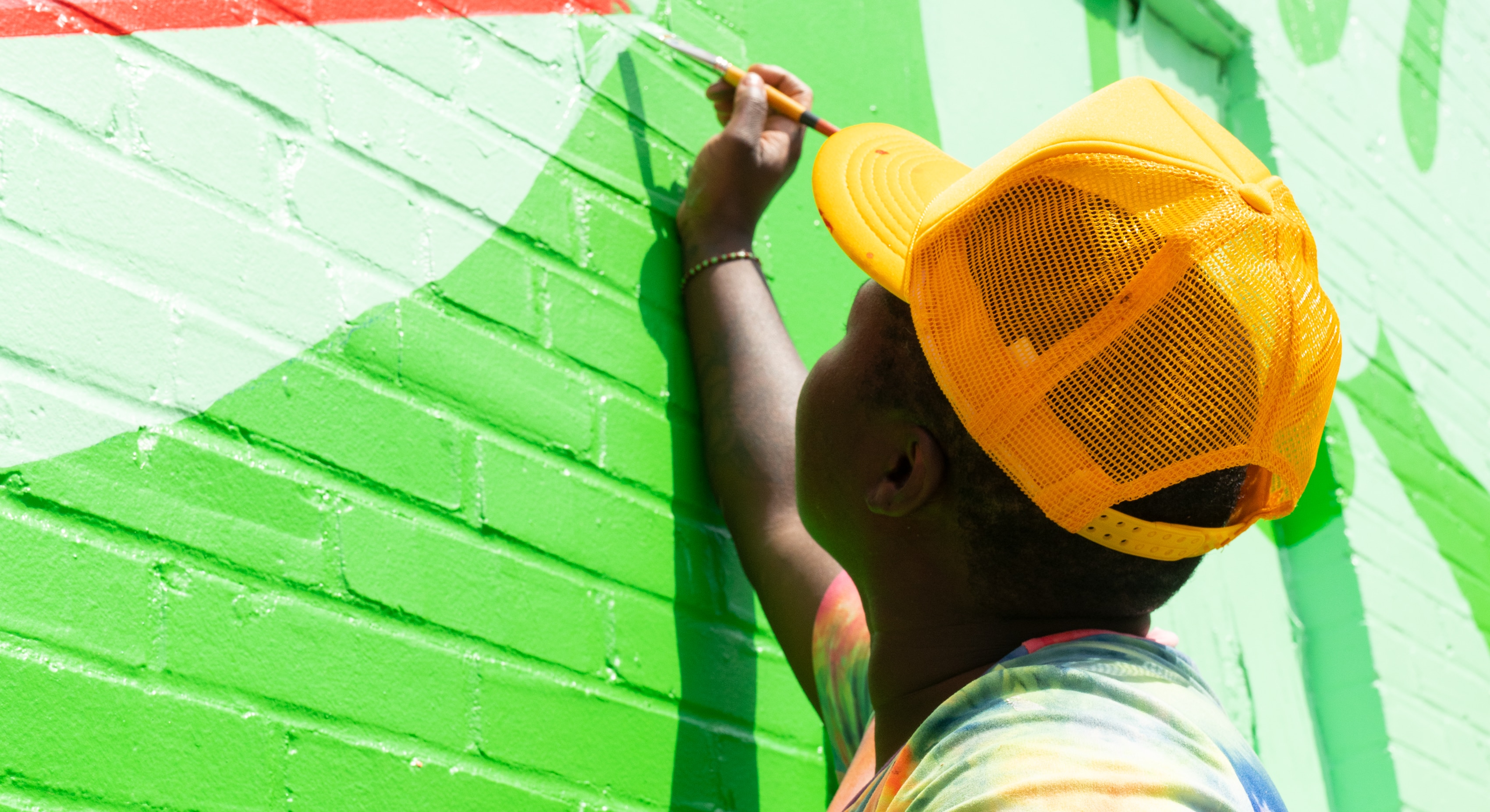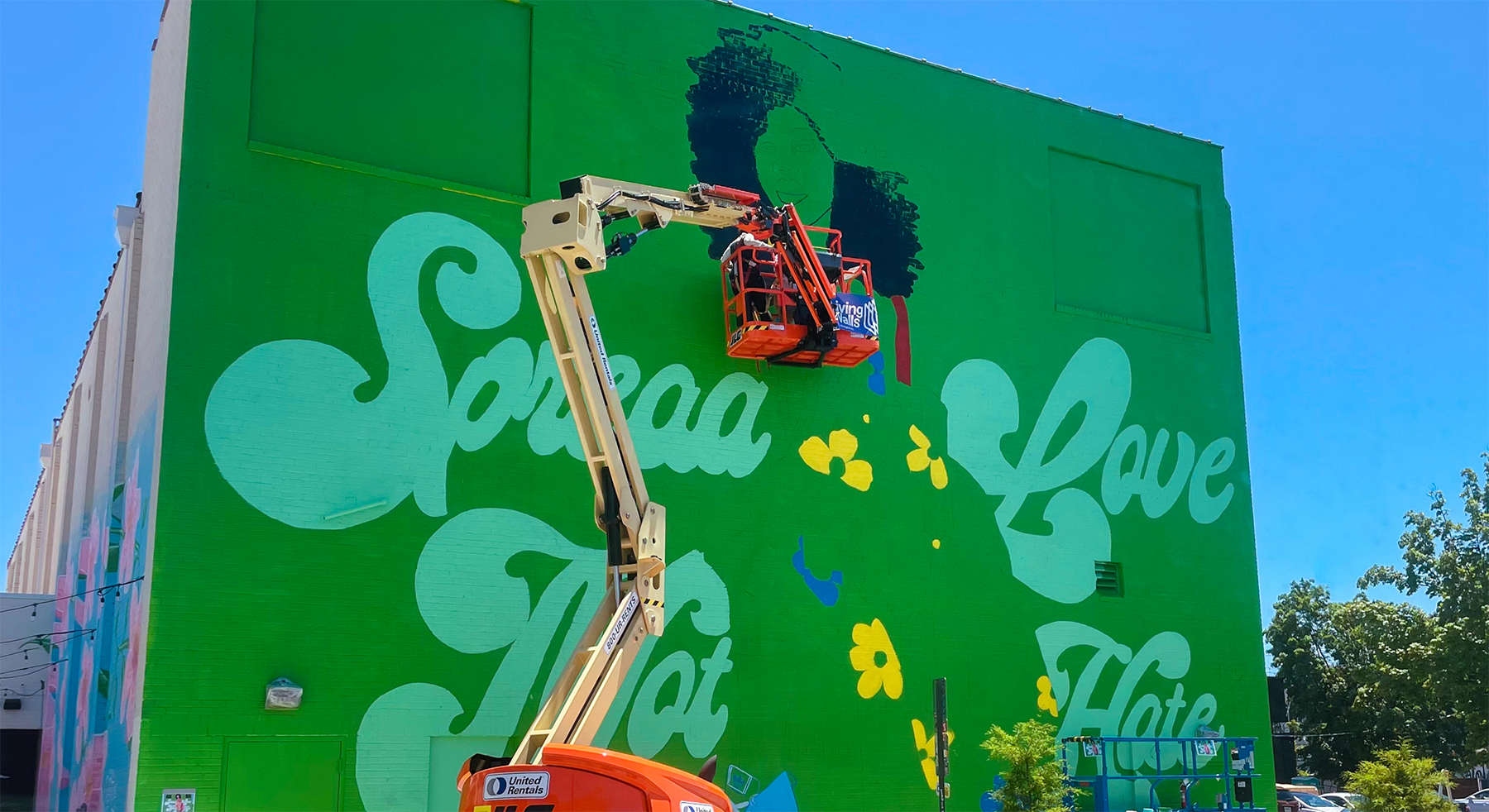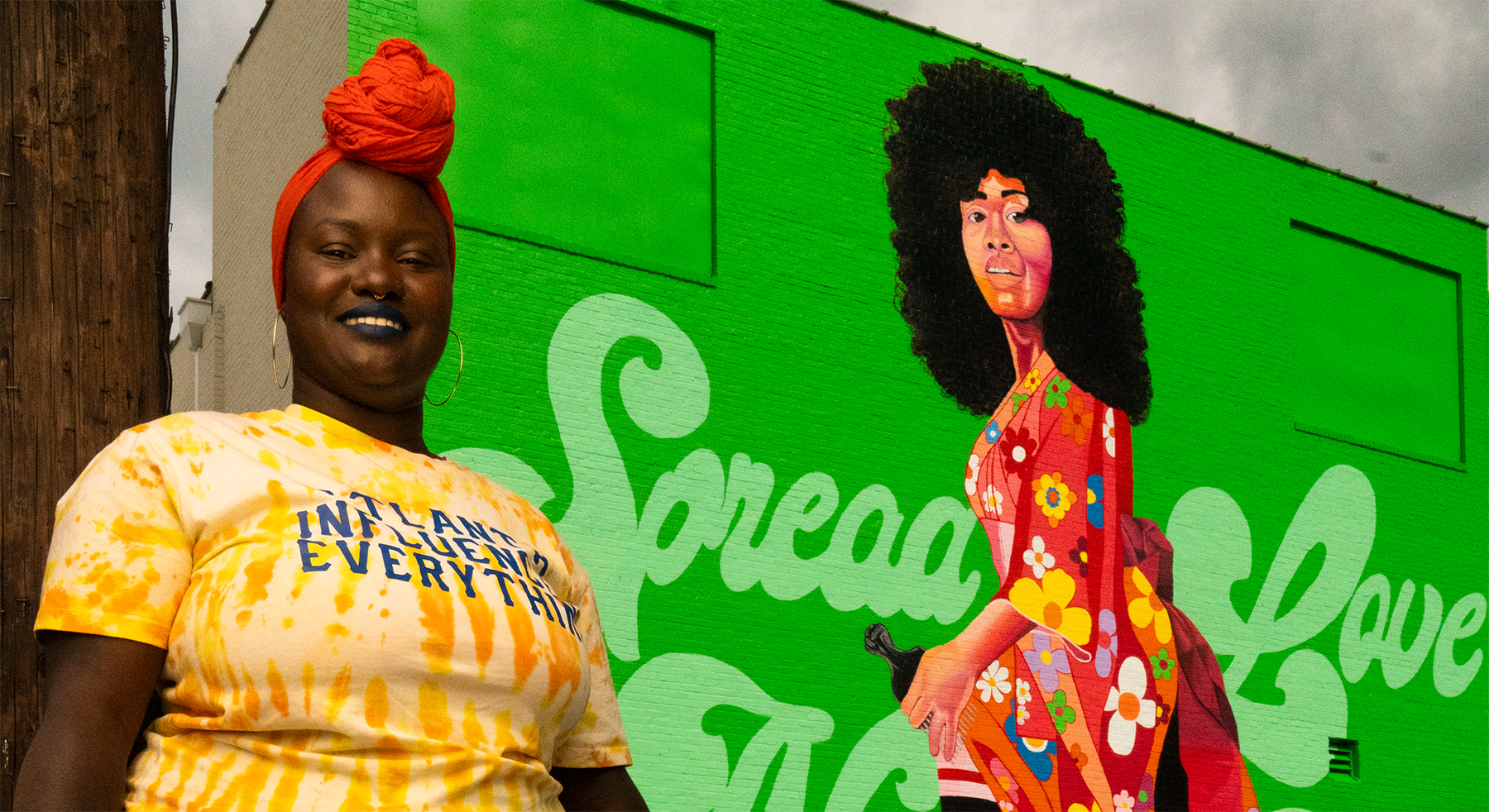 Jasmine Nicole Williams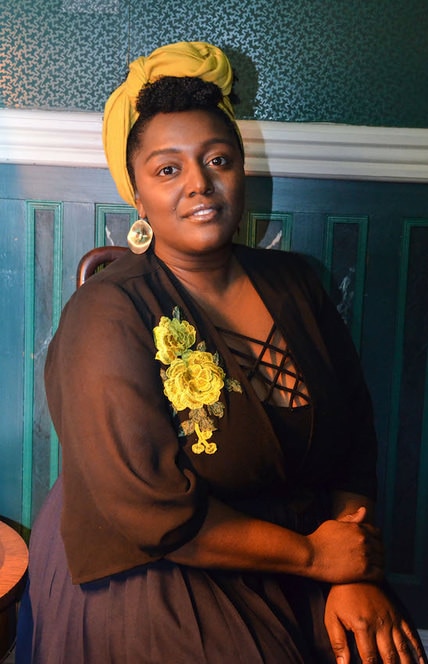 I create work that speaks to my black, southern, and femme identities. I conjure a space where I can fully and freely express myself. I use printmaking to bring light to the figures I depict. With this mural, I am honoring the resilience of black women and present it as a gift to this community. Naming oneself is the most revolutionary act. This will serve as a reminder to the viewer to always name themselves and stand proudly in all of their identities.
FALL 2020 • PLAZA THEATRE COMPLEX
Cleburne Terrace Northeast and Ponce De Leon Ave
Atlanta, GA 30306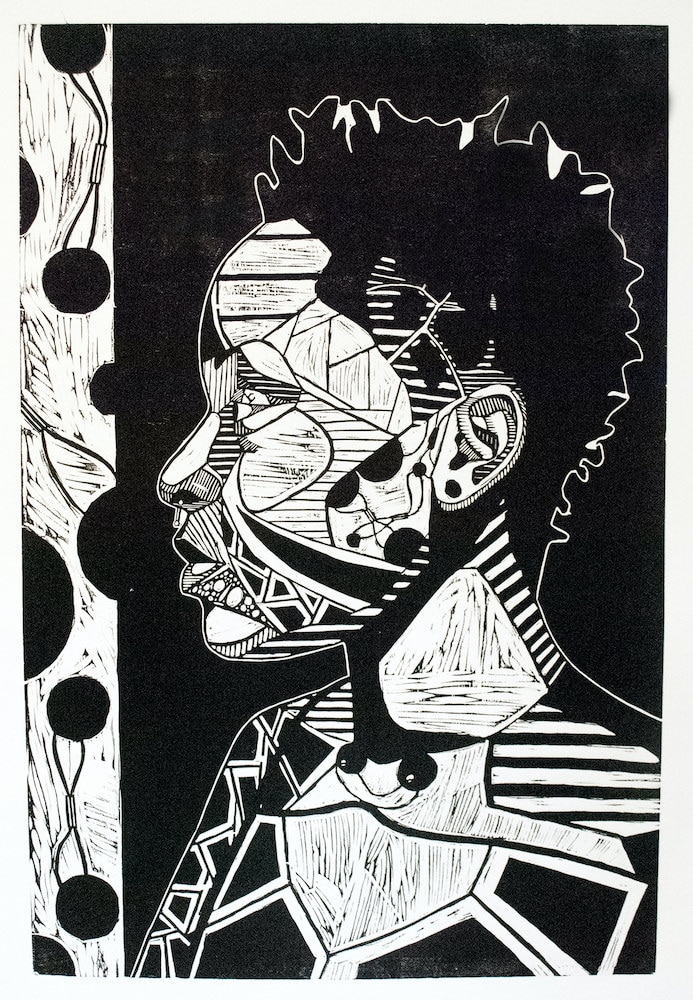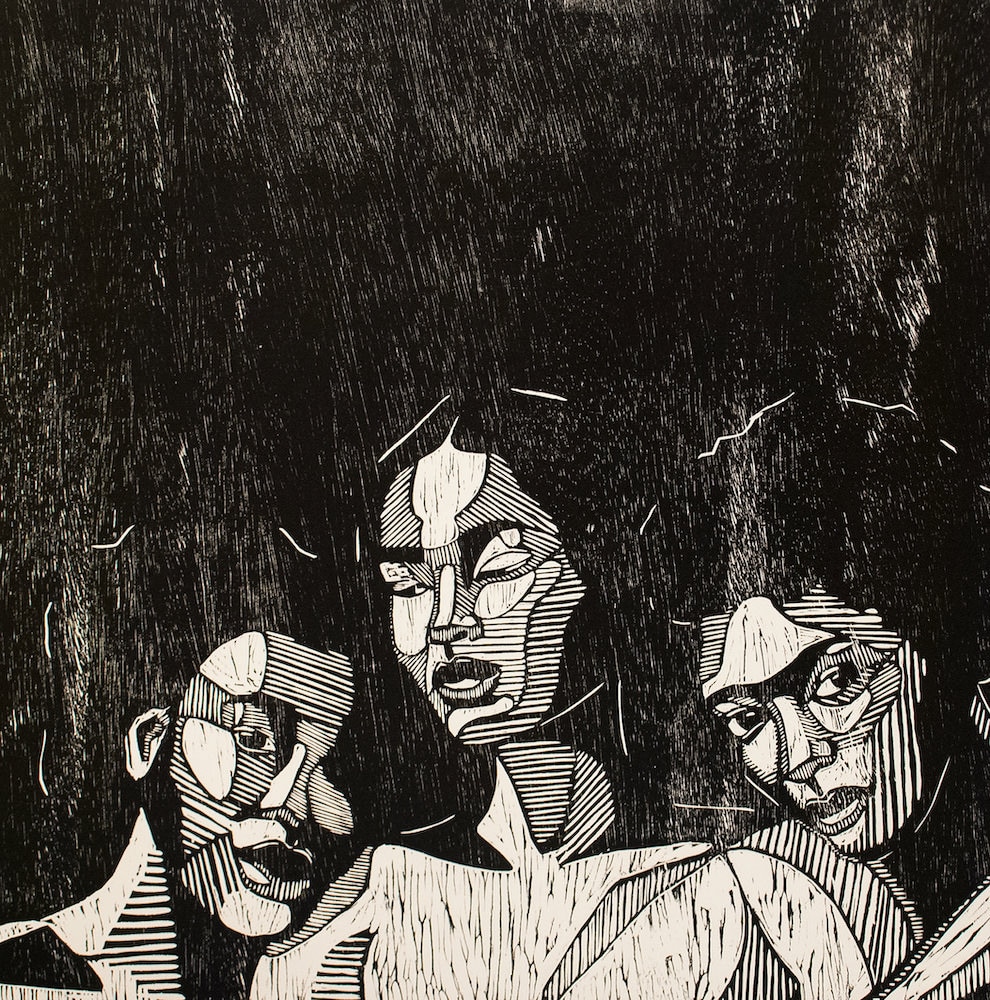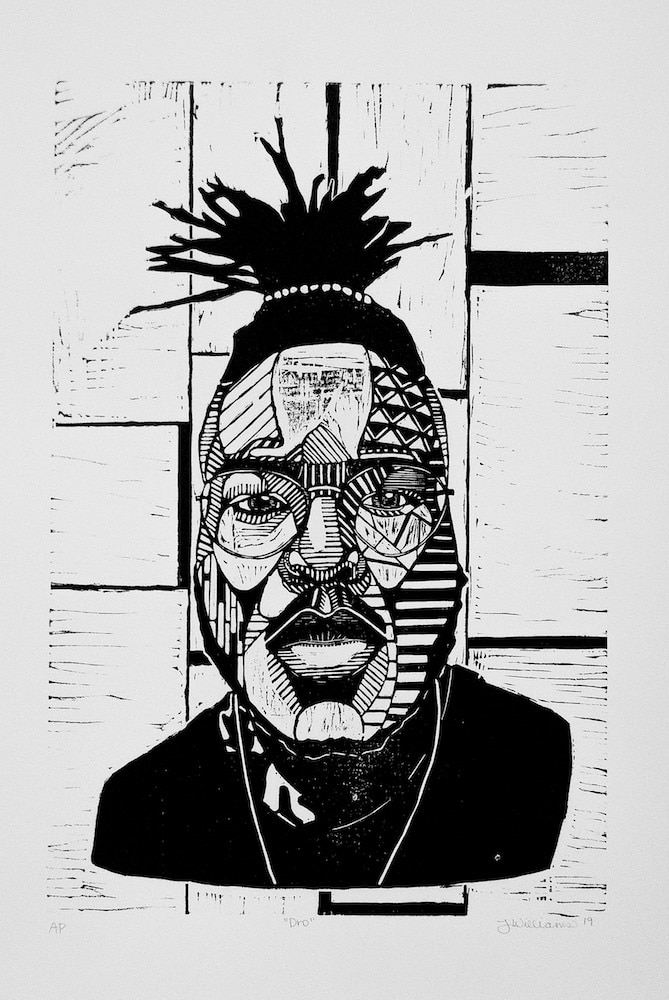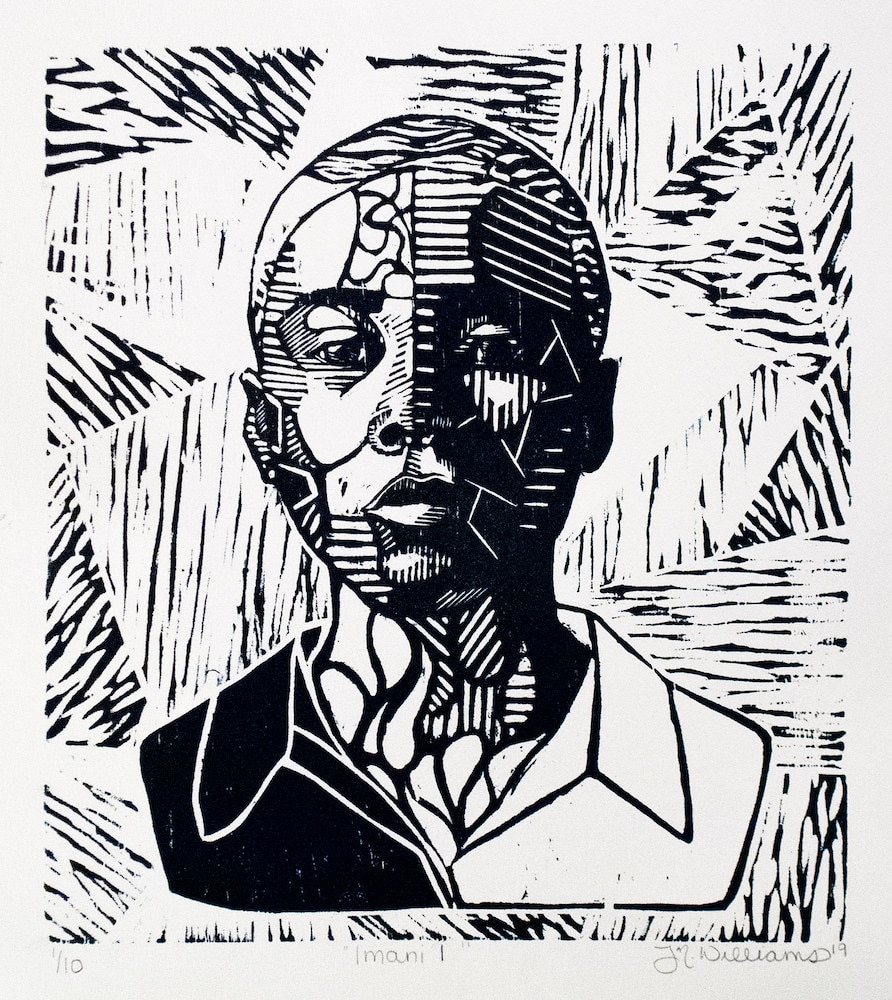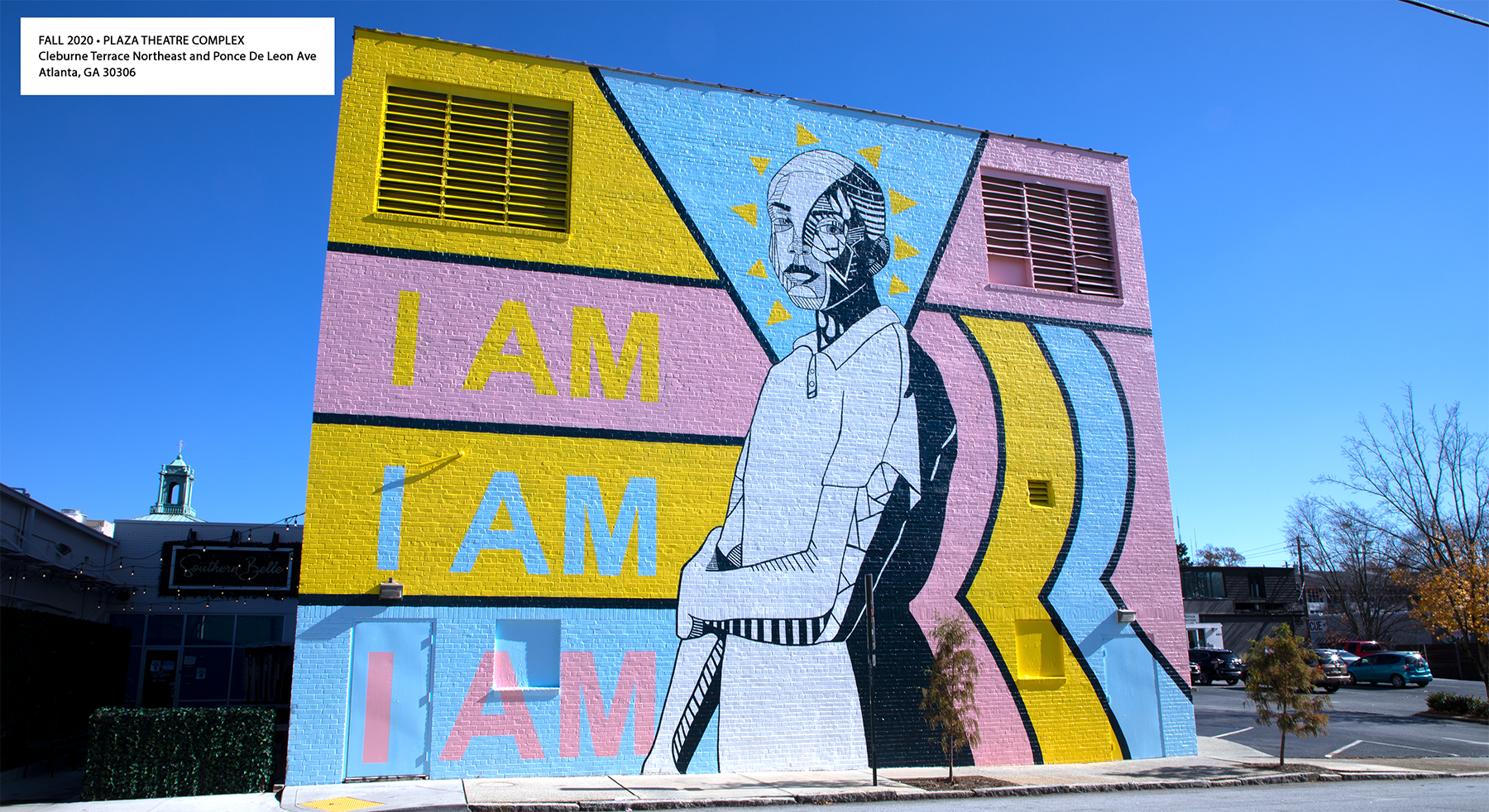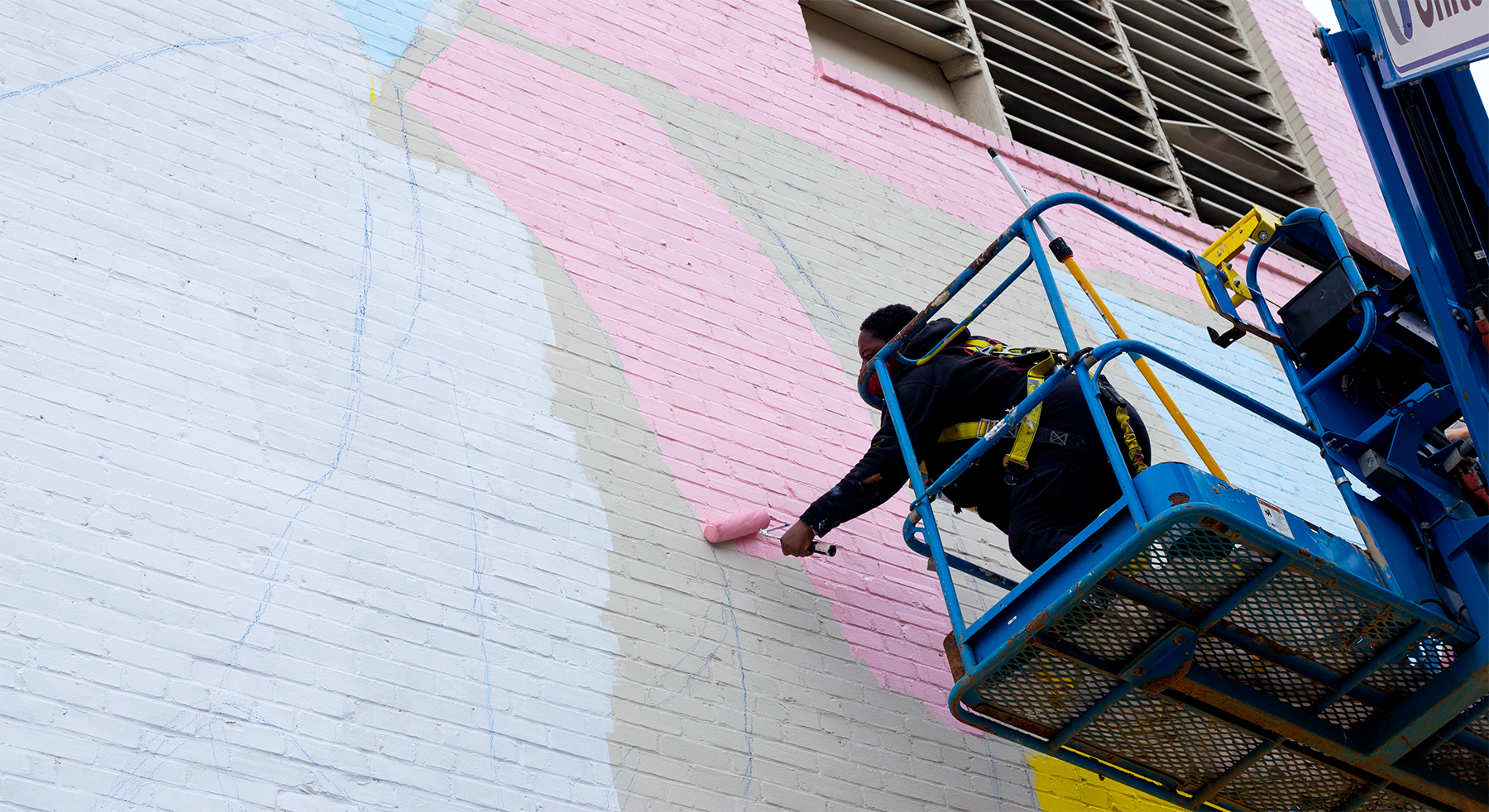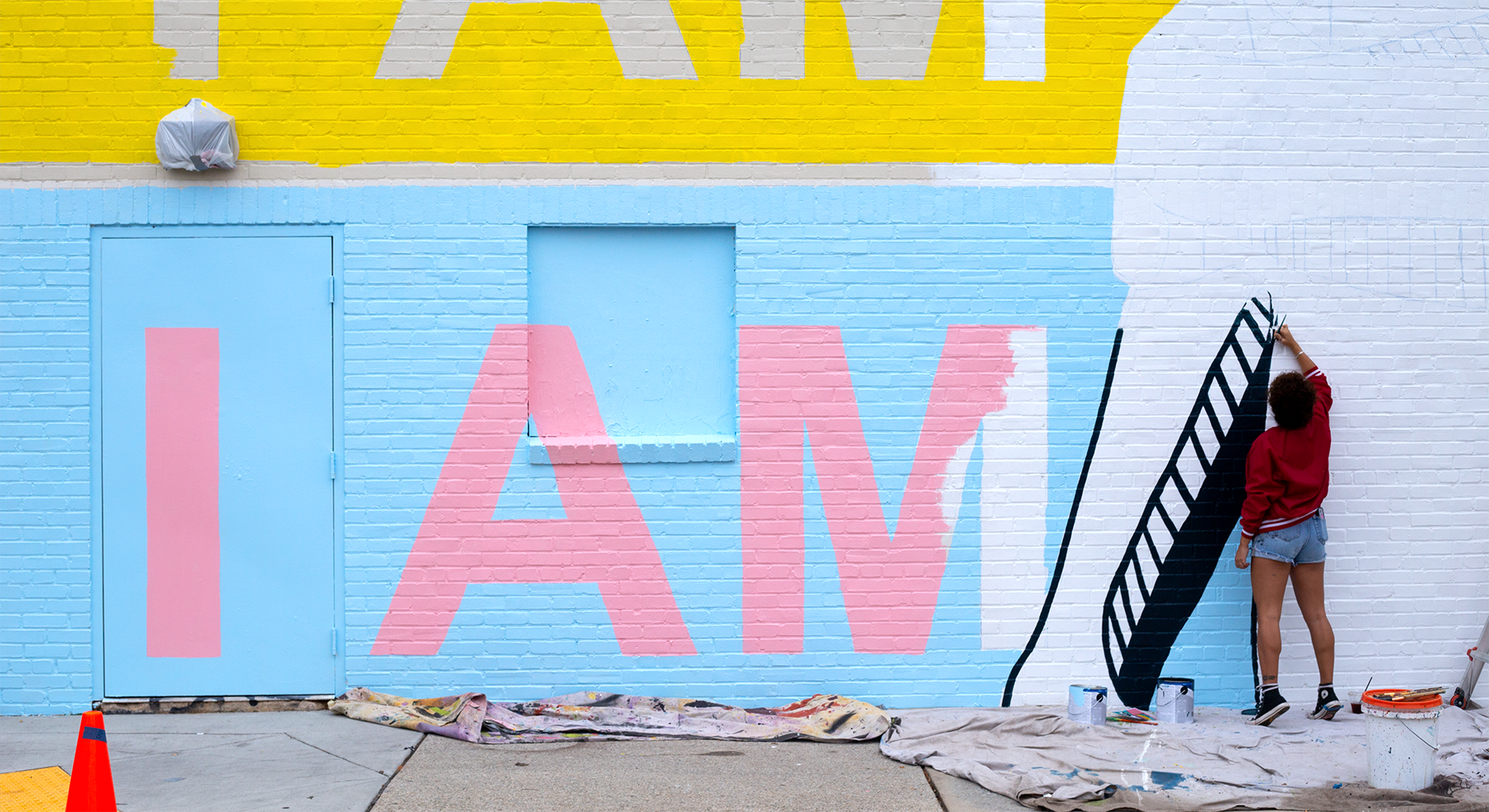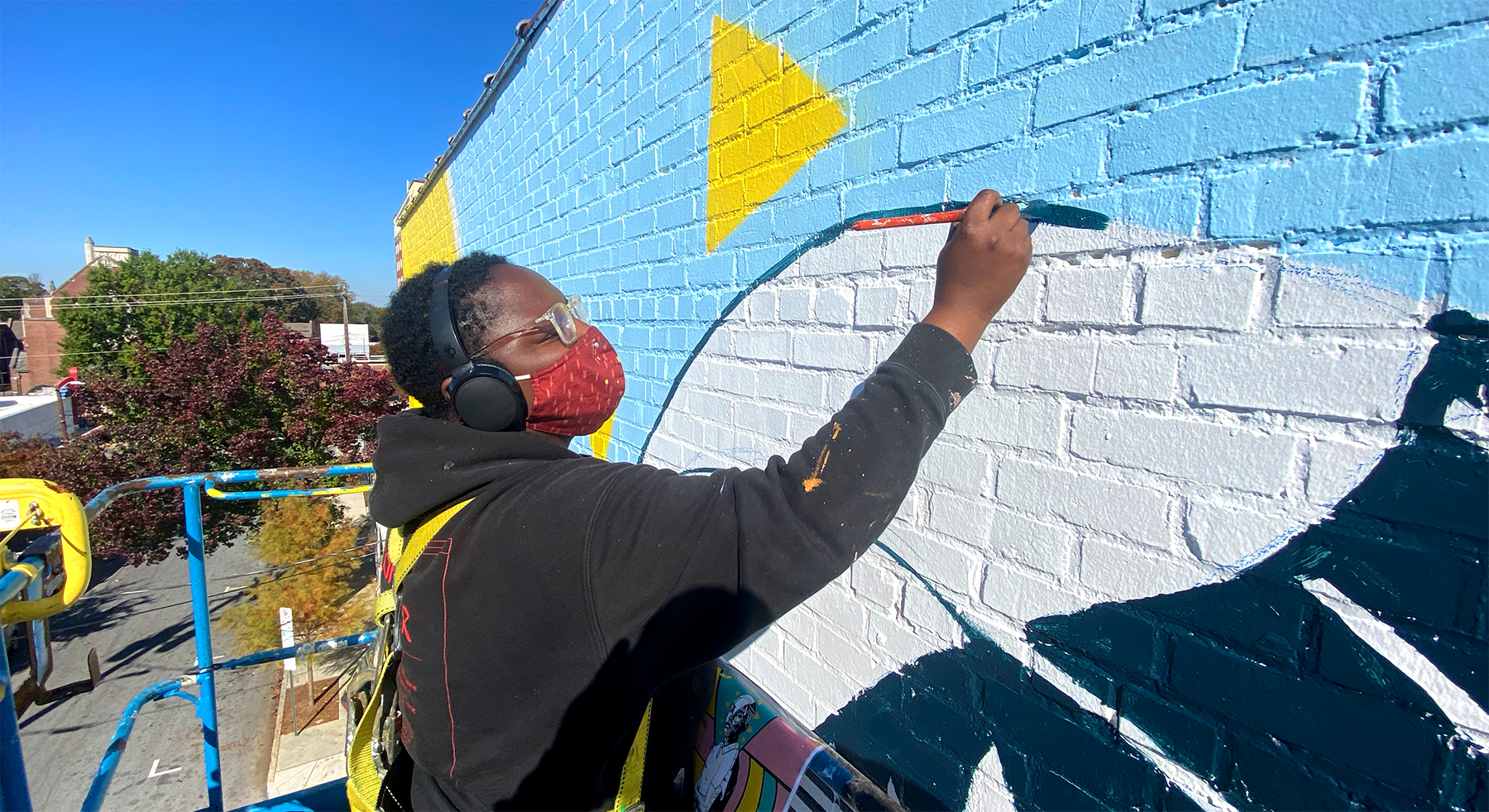 SOFAHOOD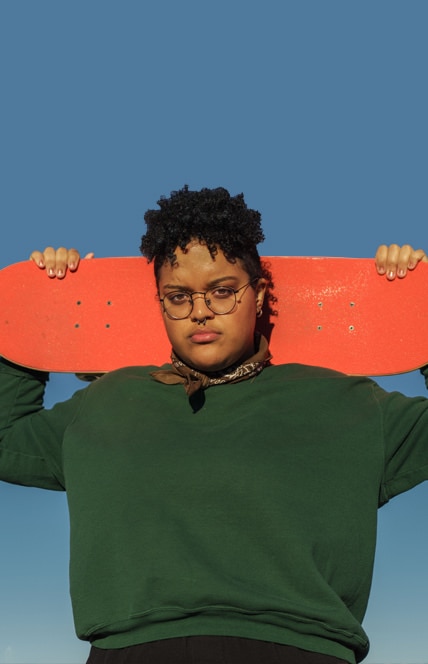 As SOFAHOOD, I create content for the marginalized through loud colors and even louder subject matters. My art focuses on the complex feelings and ordinary moments of the unheard, in hopes that folks like me will find themselves in my expression. The mural I've designed centers on Black queer individuals experiencing moments of closeness in a dreamy Atlanta utopia. Both the illustrations within and the simple existence of this mural celebrate a world where the people have all the power to love and live as they choose. This mural is by me, SOFAHOOD, but it's for us.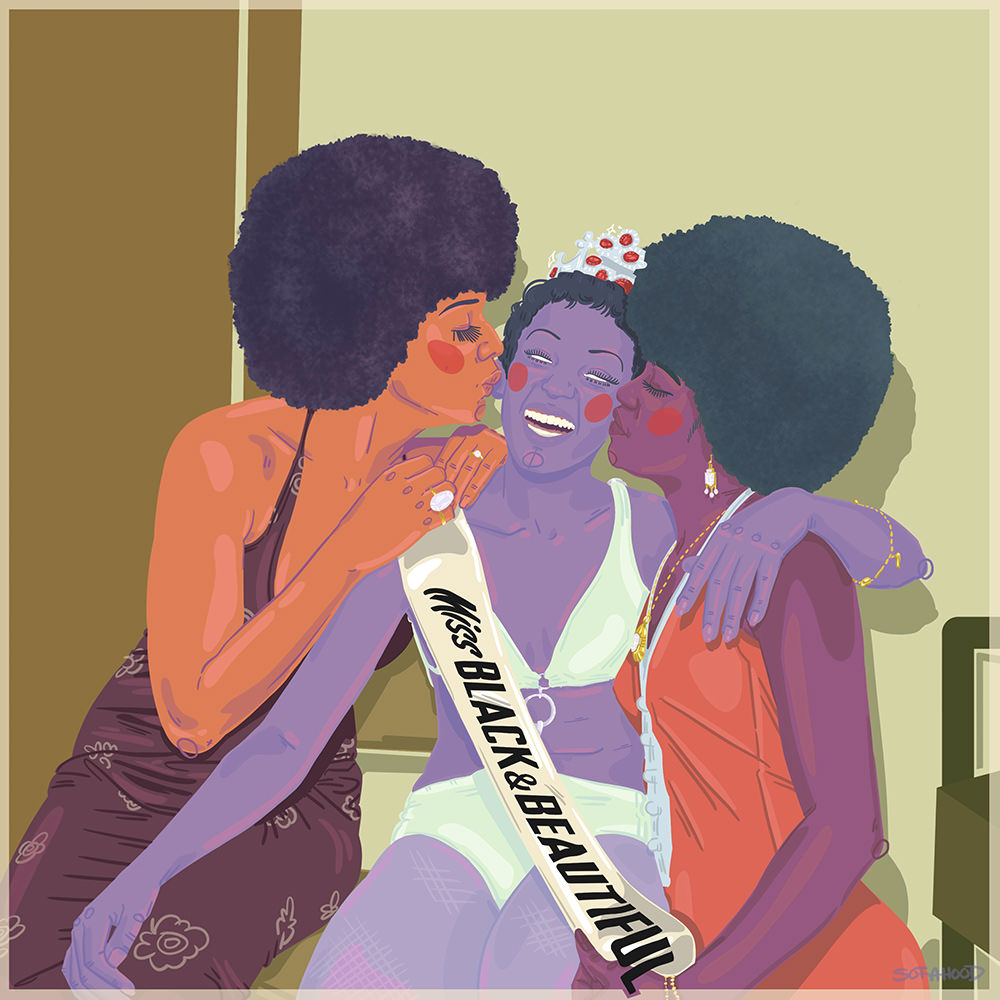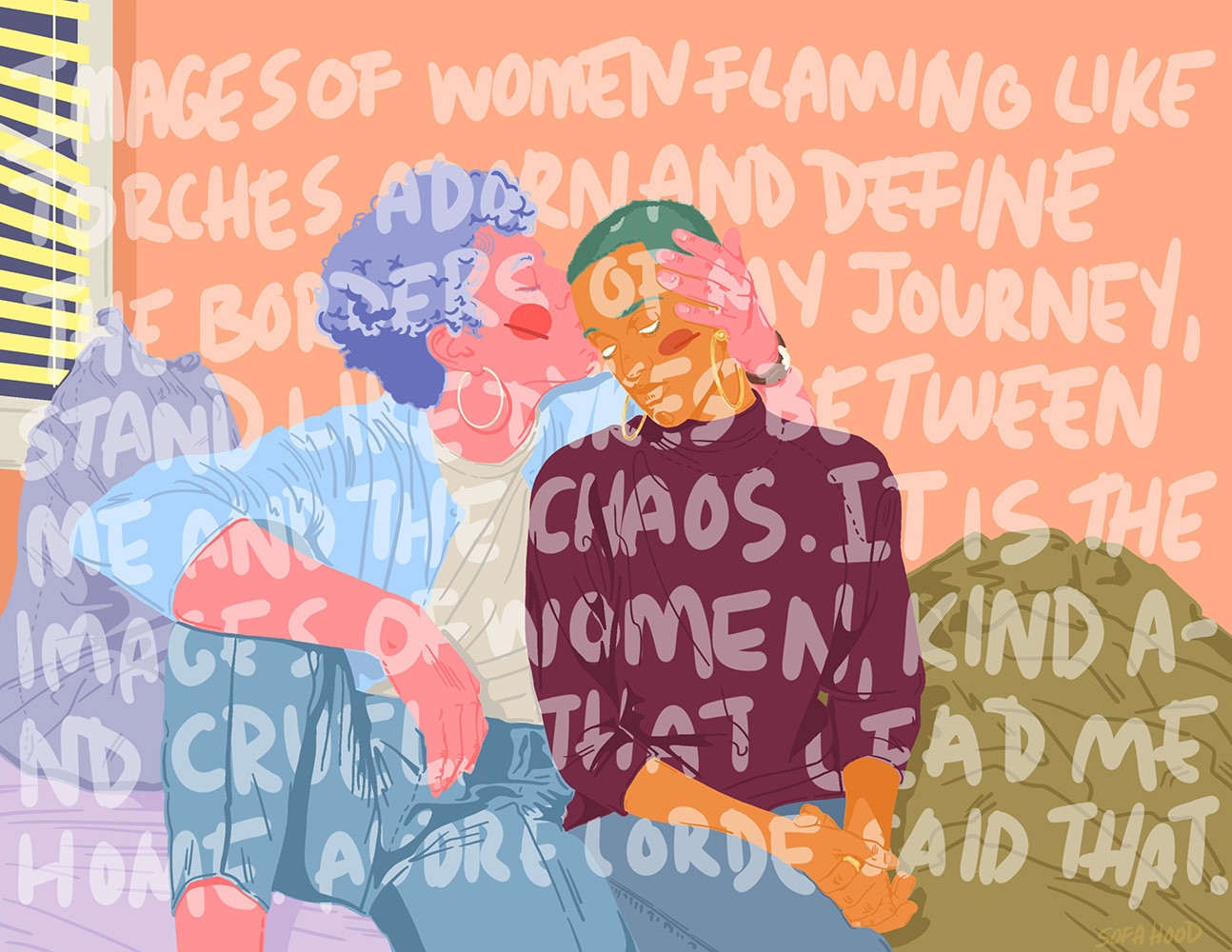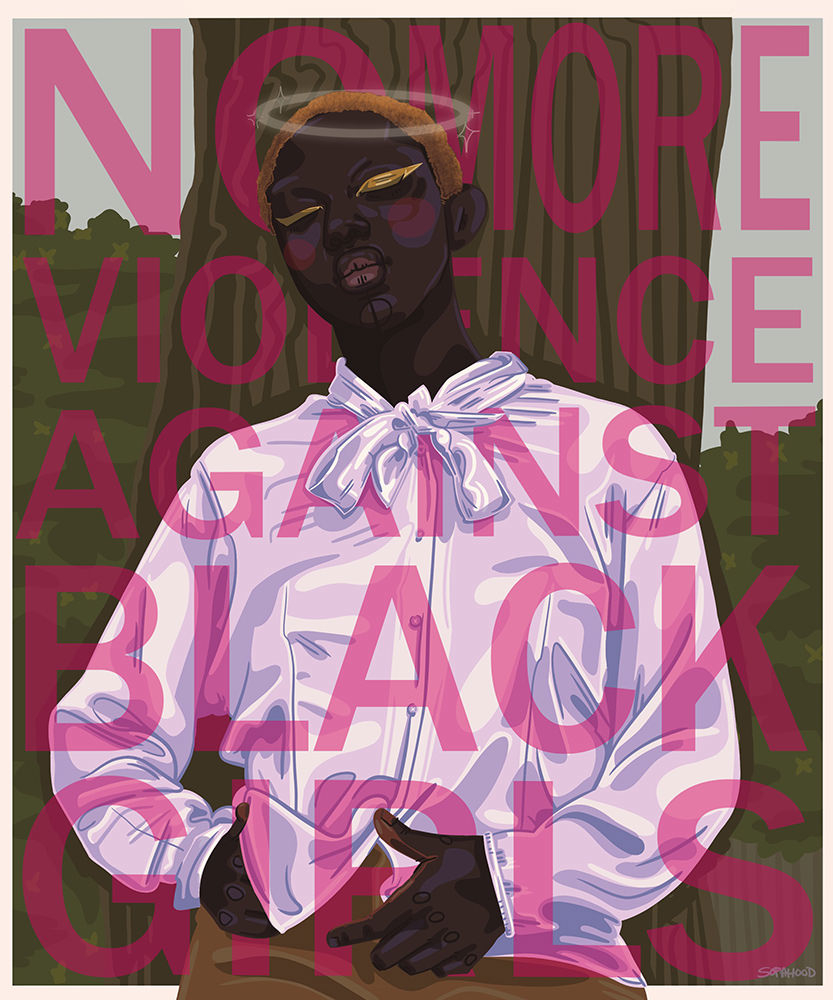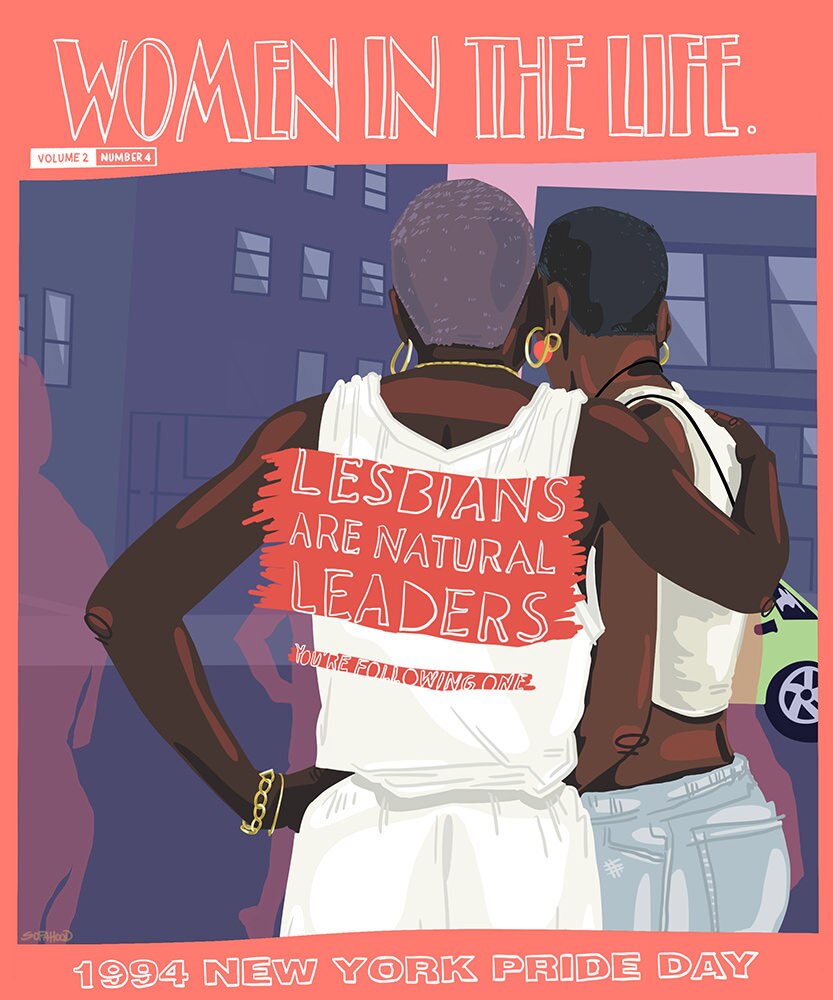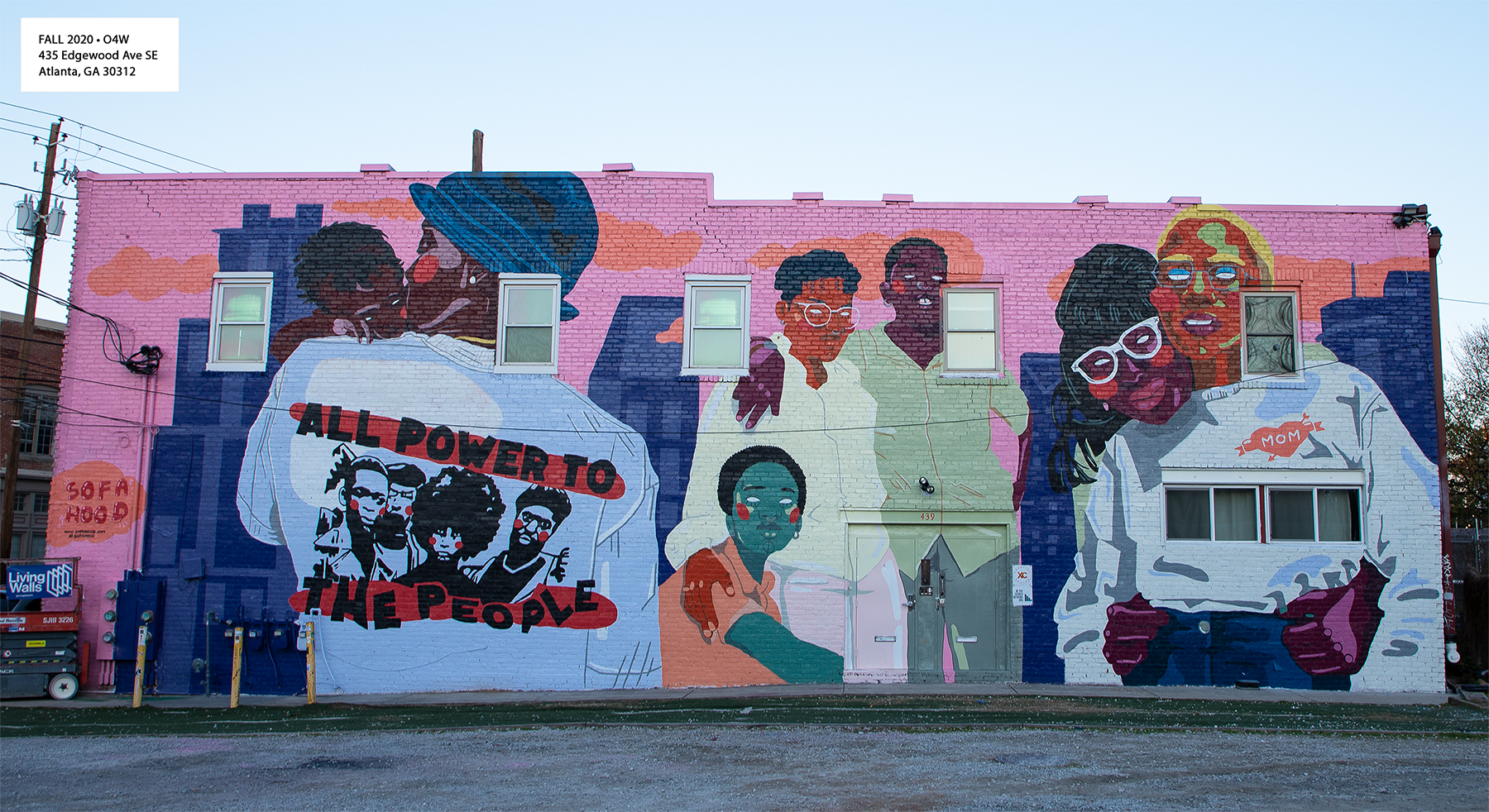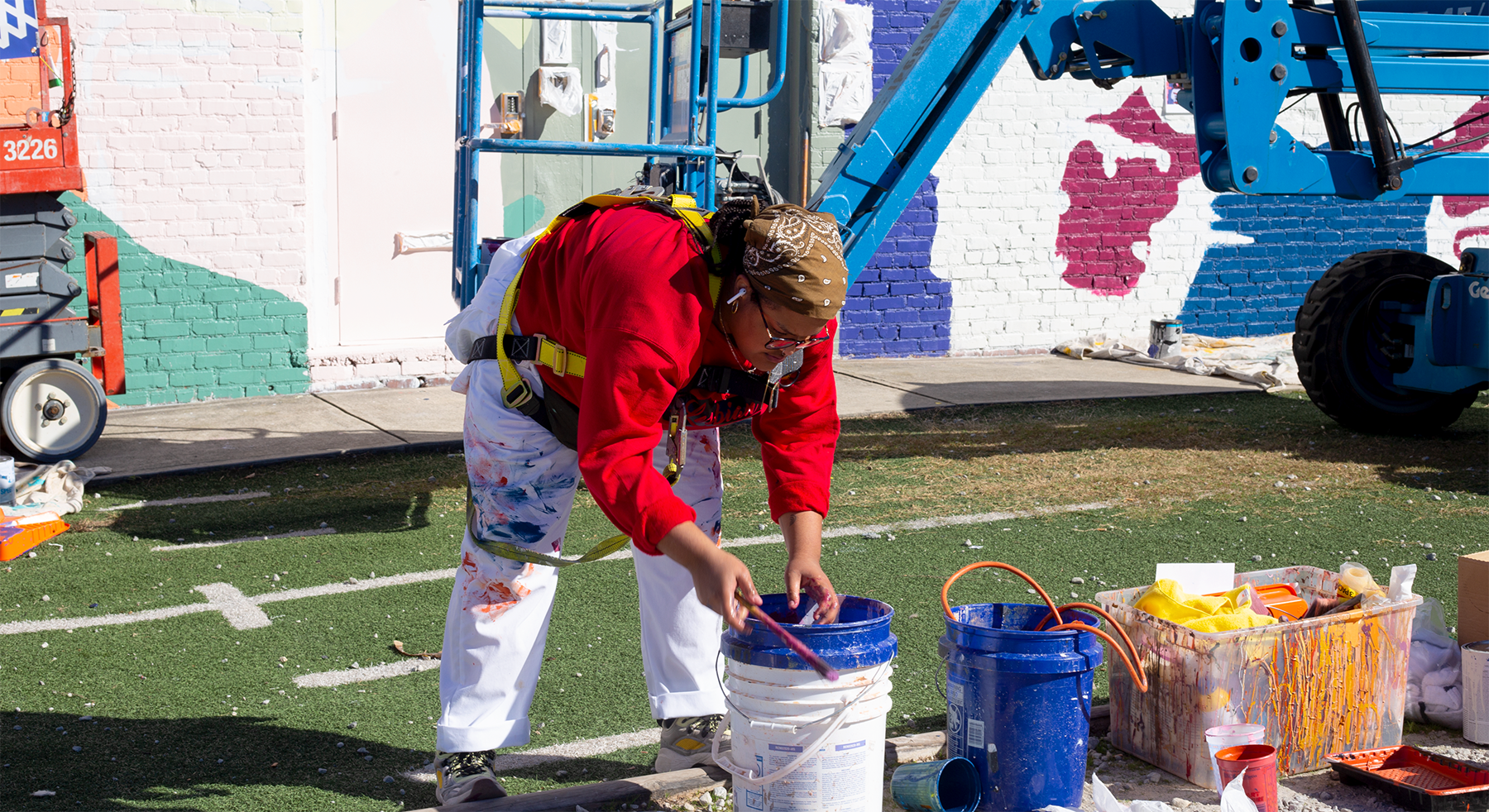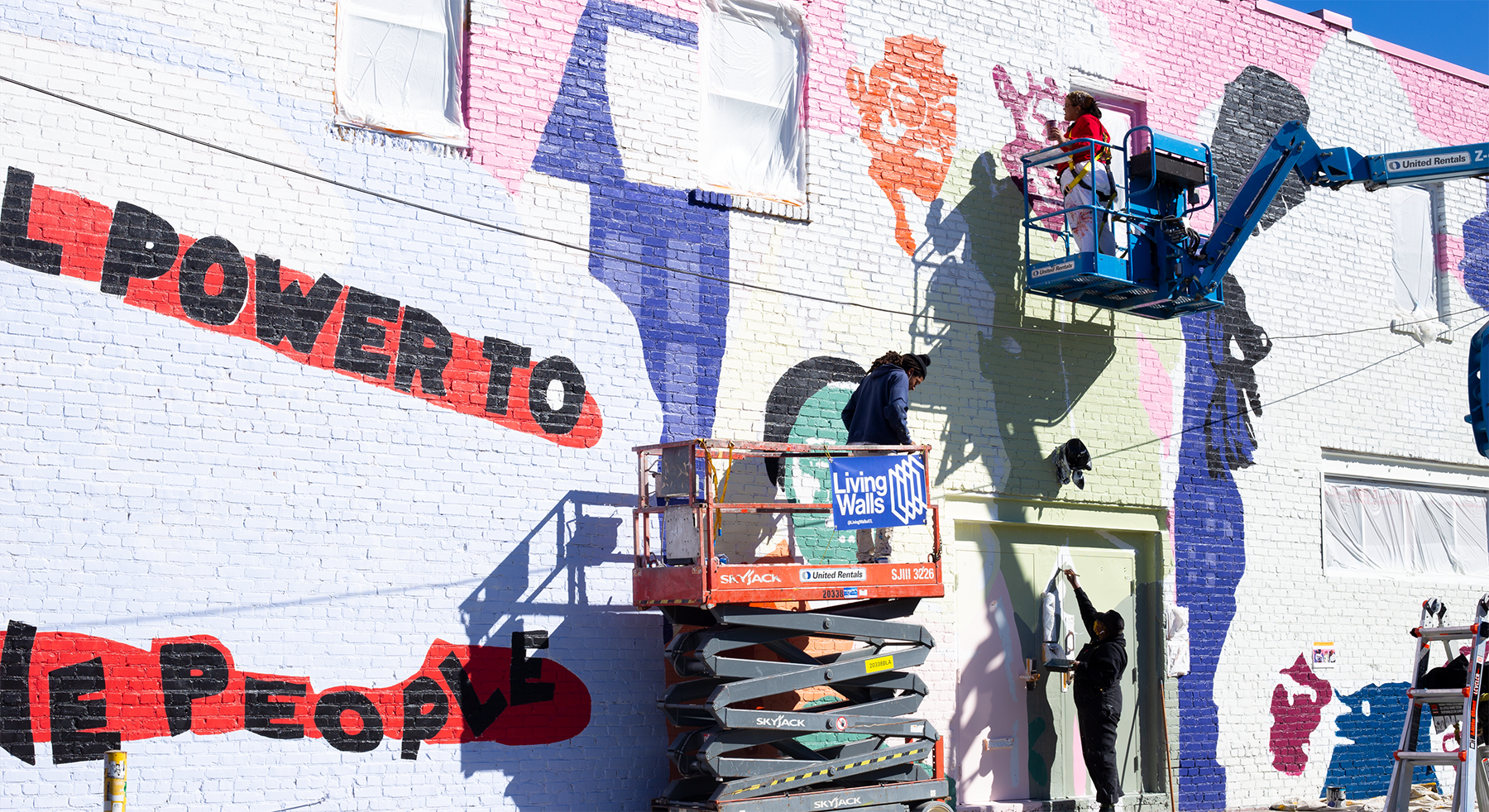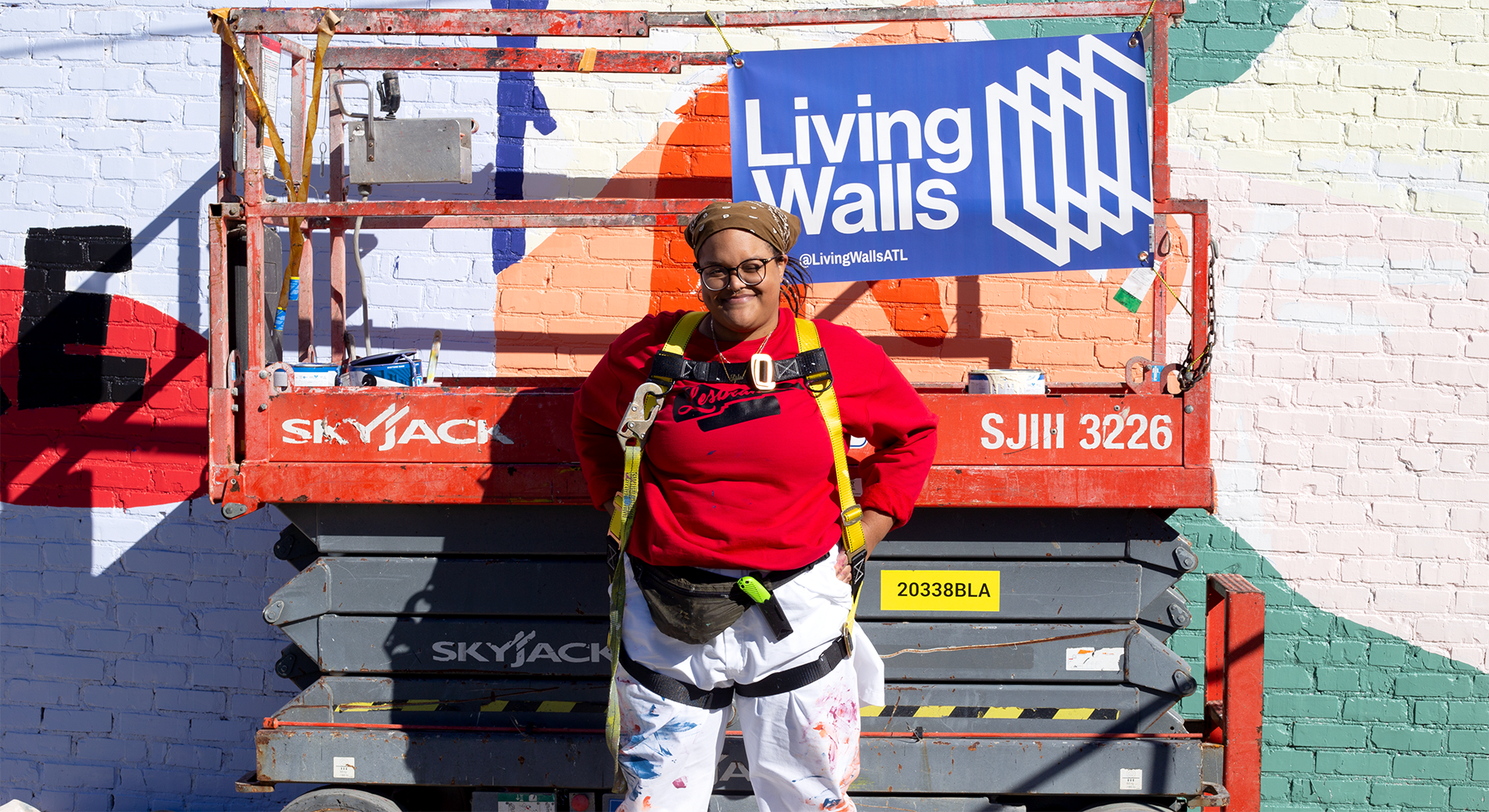 William Downs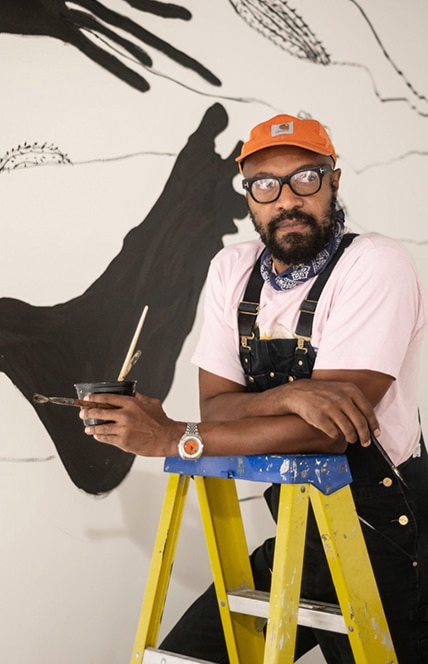 Similar to the way my work performs for viewers as looming and dreamlike forms, my process is an extensive drawing performance where I reminisce on historical heavyweights like Hieronymous Bosch and Paul Cezanne to create figures that defy dimension, appearing both sprawling in motion and suspended in time. The inspiration for the Decatur mural is the people I foresee bustling around the wall; a response to the norm (lunch, yoga, playing music) seen in a parade of fantastic, contorted surrealism, seen in color for the first time in 5 years.
FALL 2020 • DECATUR SQUARE
On the side of Squash Blossom
113 E Court Square
Decatur, GA 30030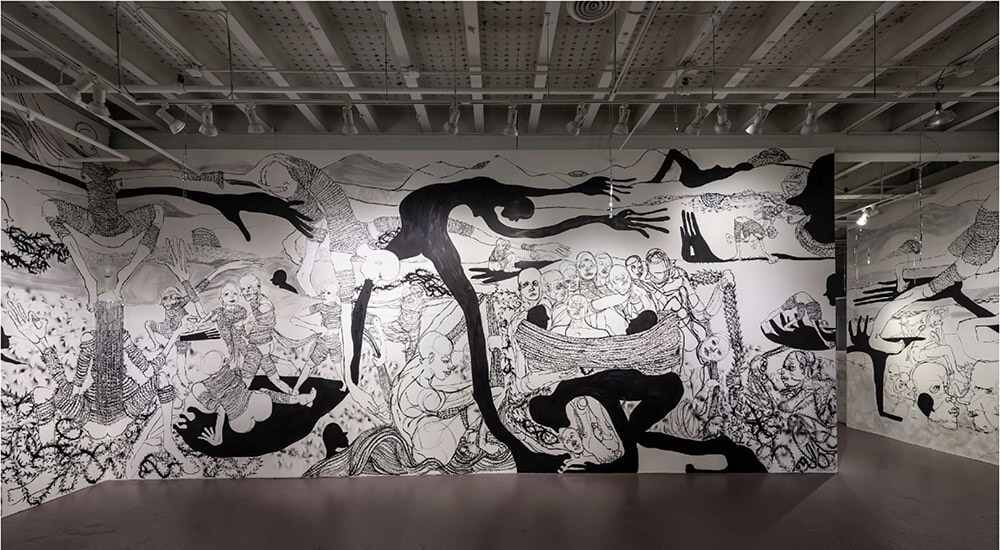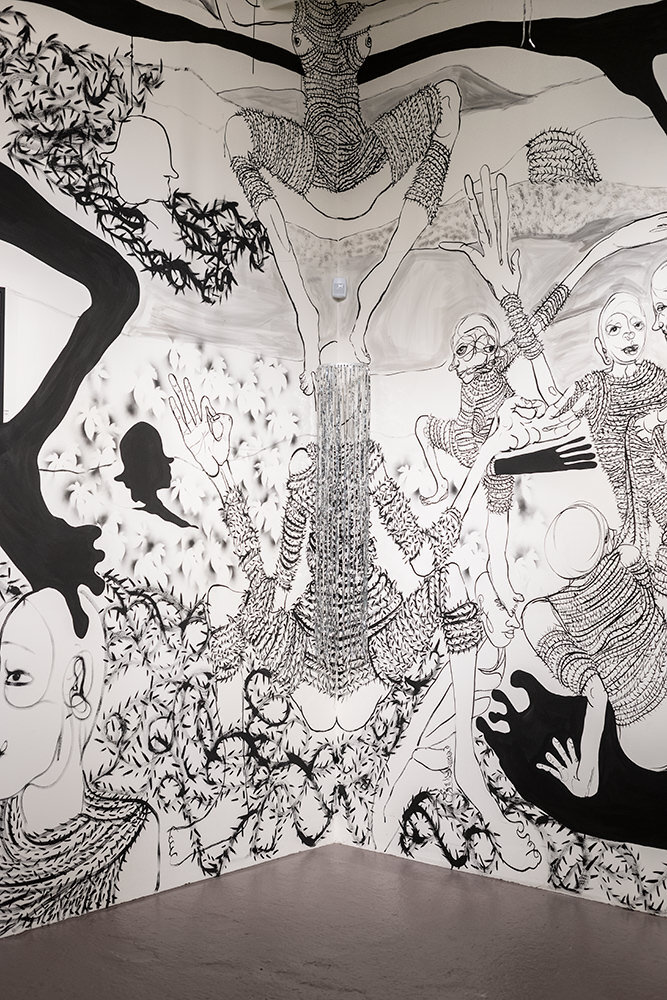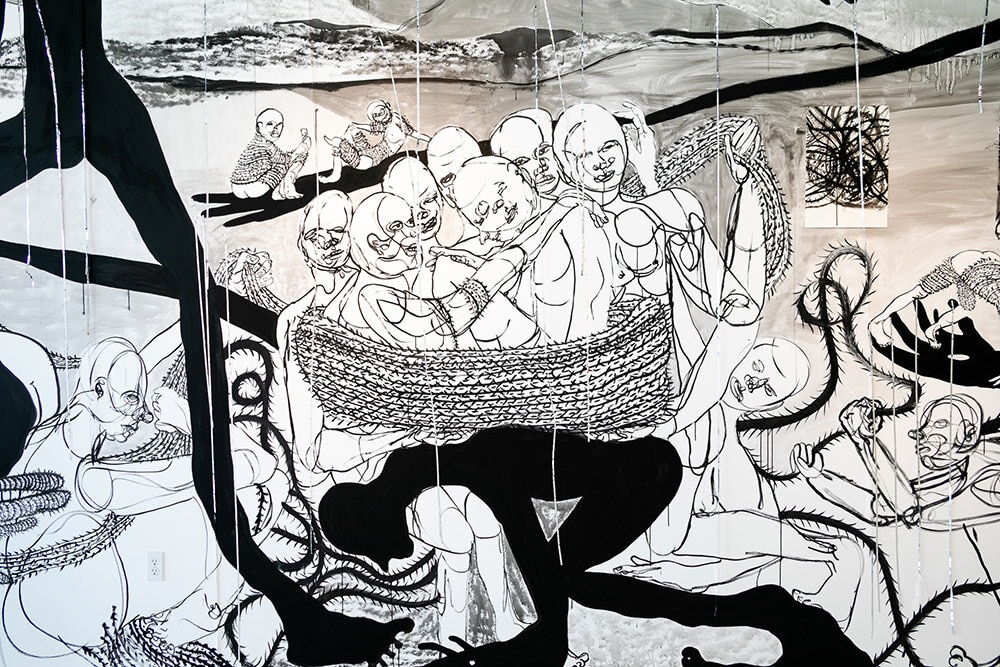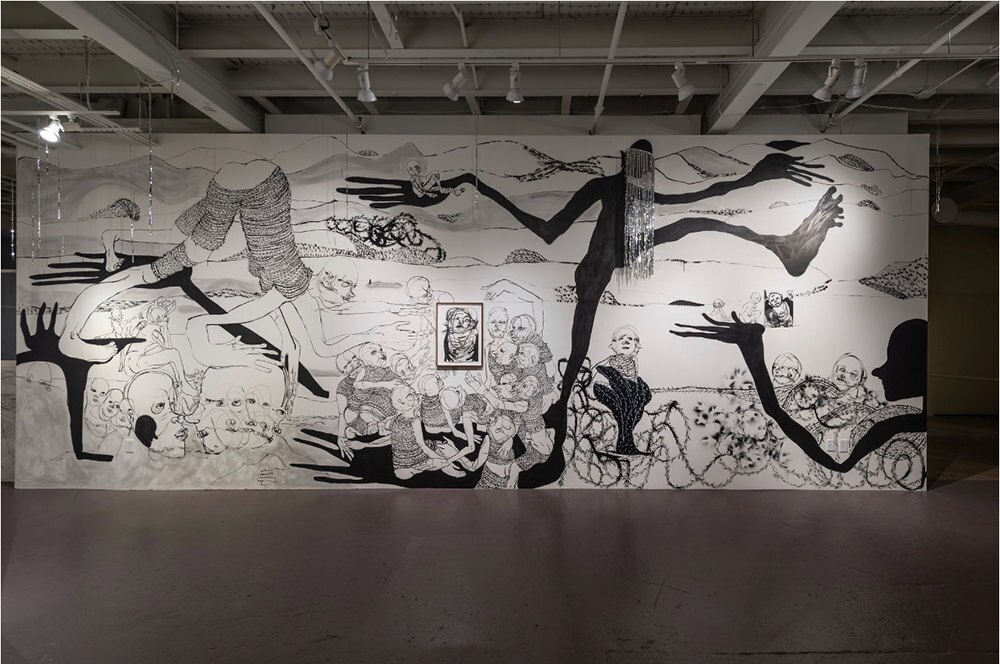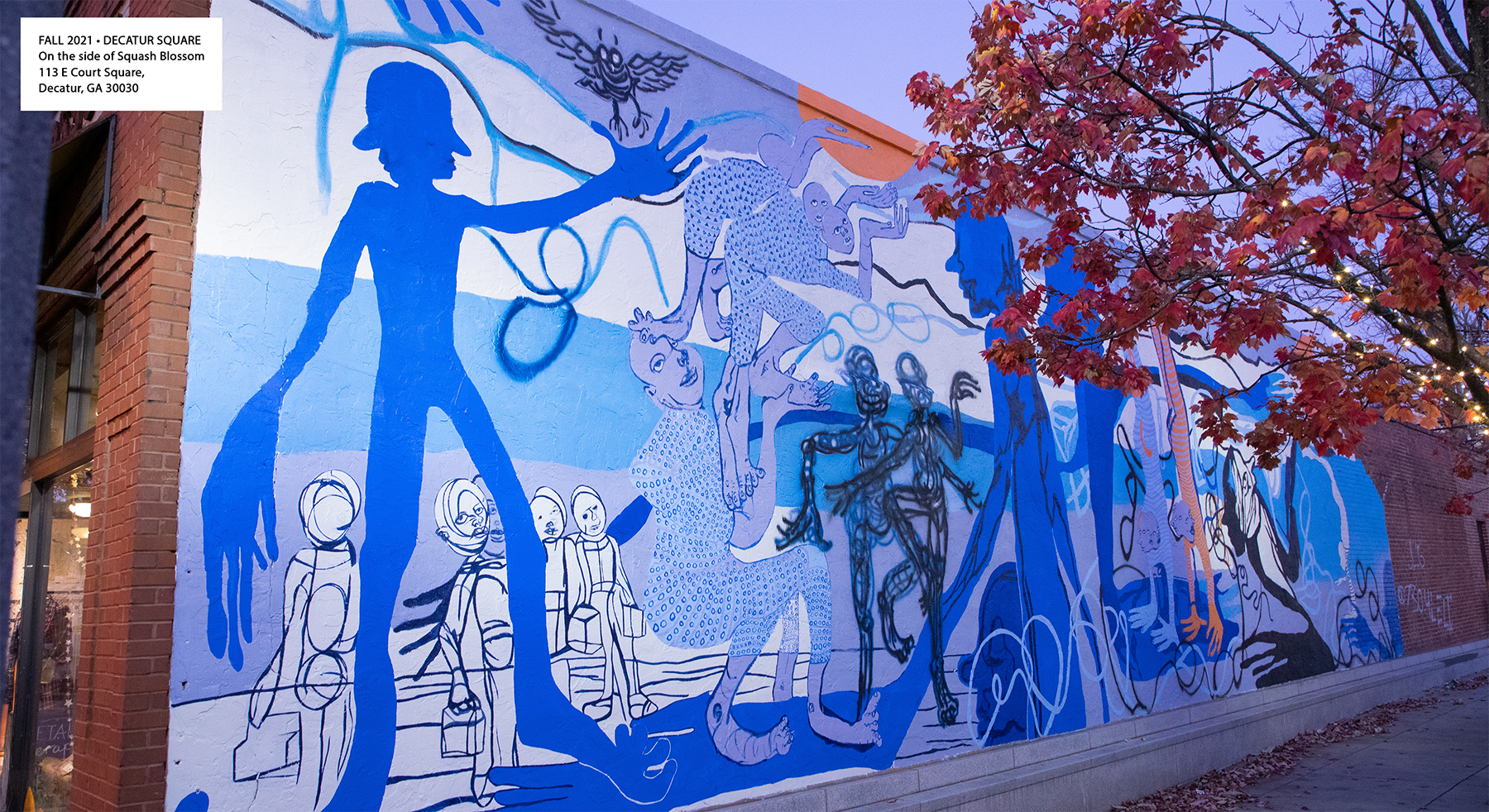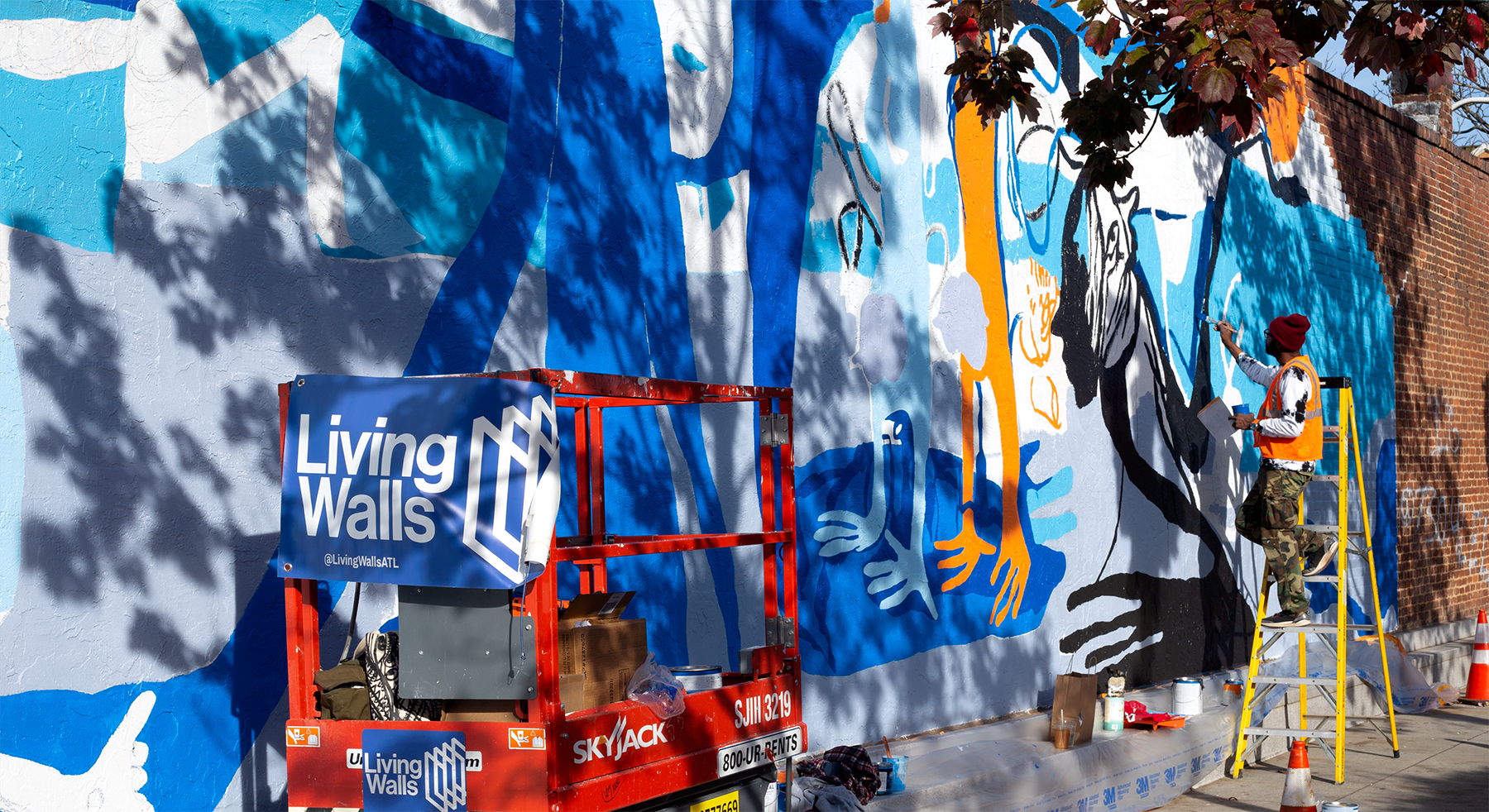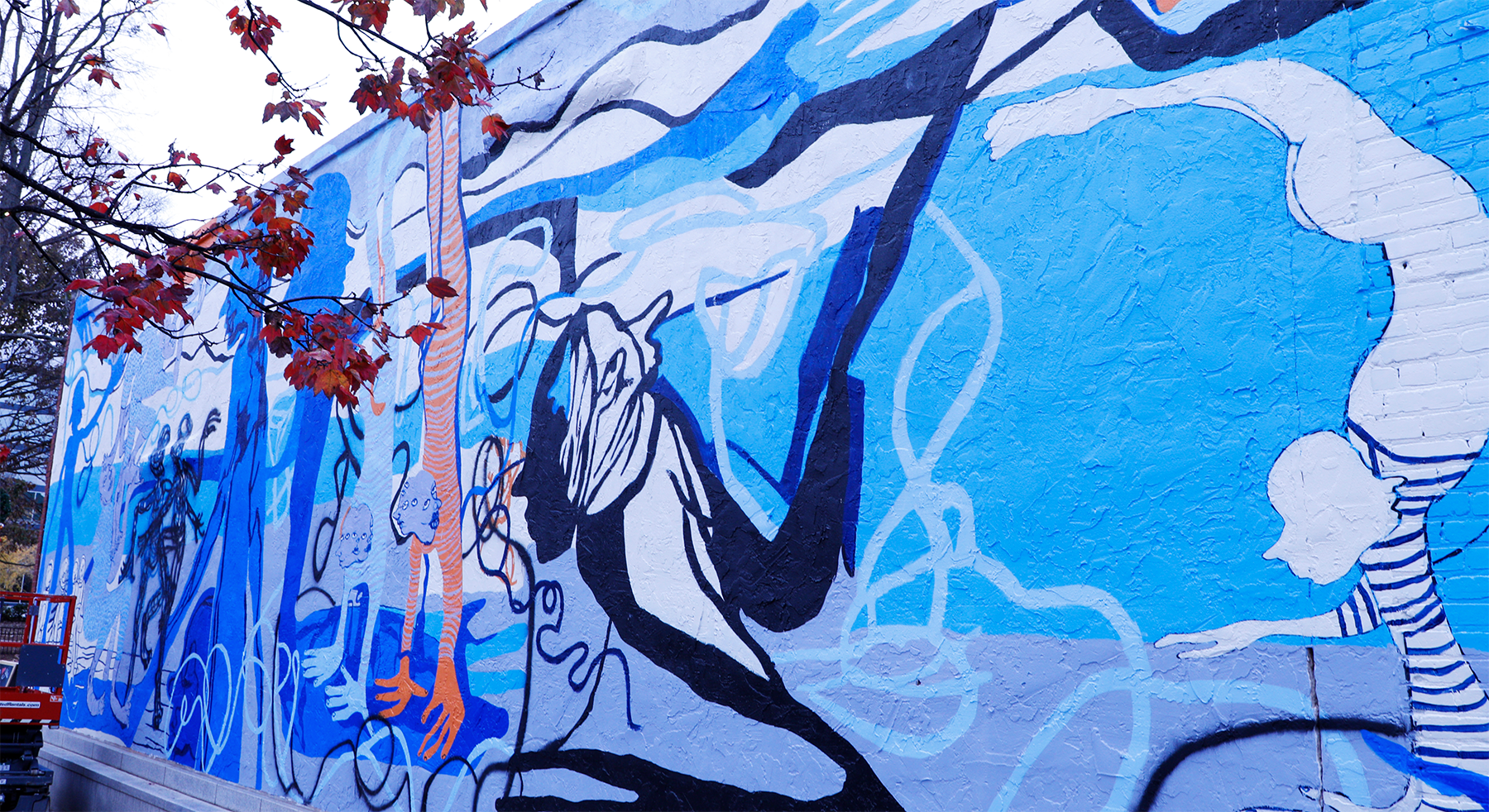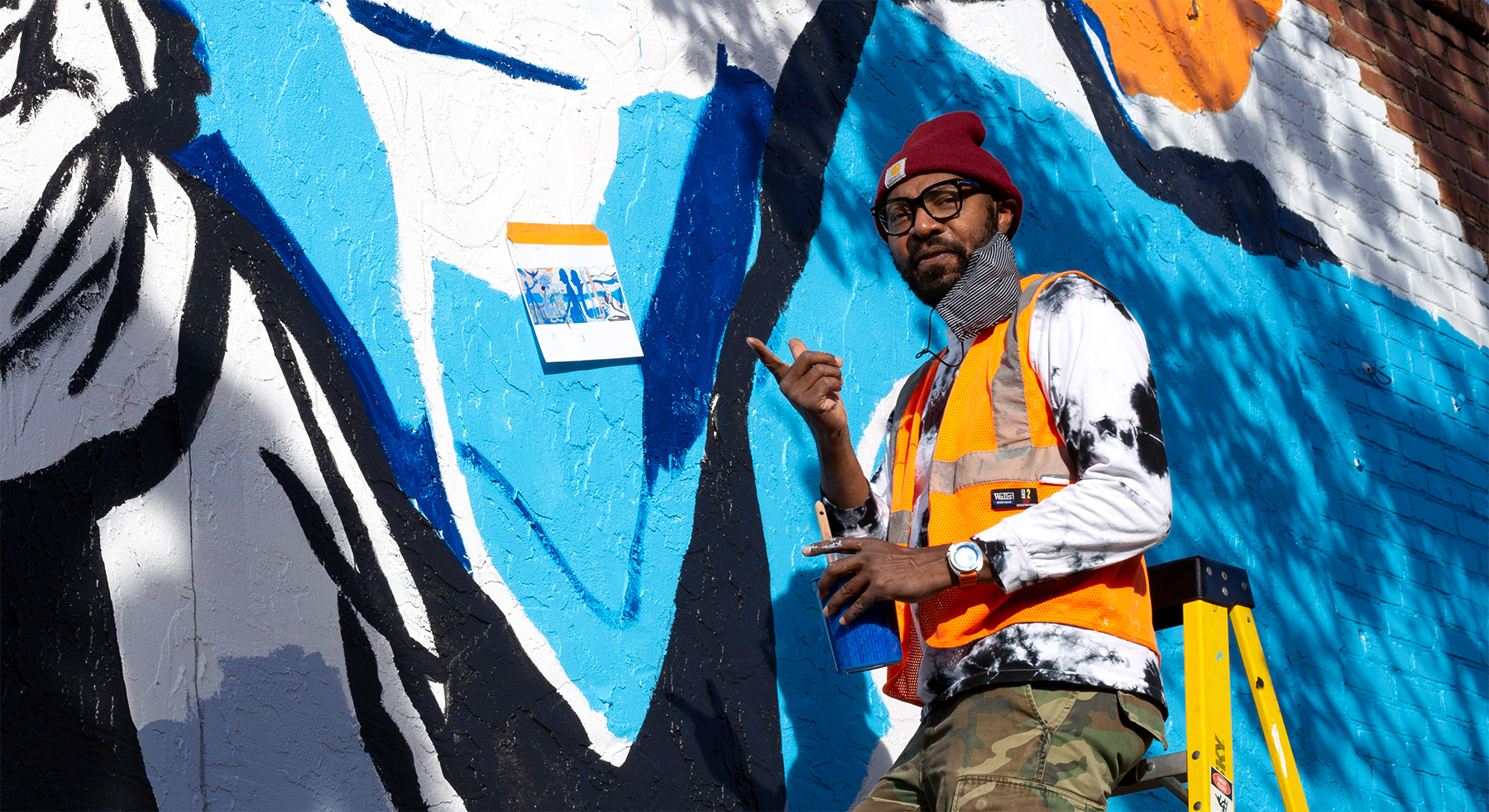 CLOSE