Let's converse. Email your query or statement to
adultswimeditor@gmail.com
. Or snail mail: Letters to the Editor c/o Adult Swim Digital, 1065 Williams St., Atlanta, GA 30309.
---
Mr. Poopy Butthole
Just want to show off my new tattoo and maybe see it on a bump or the website.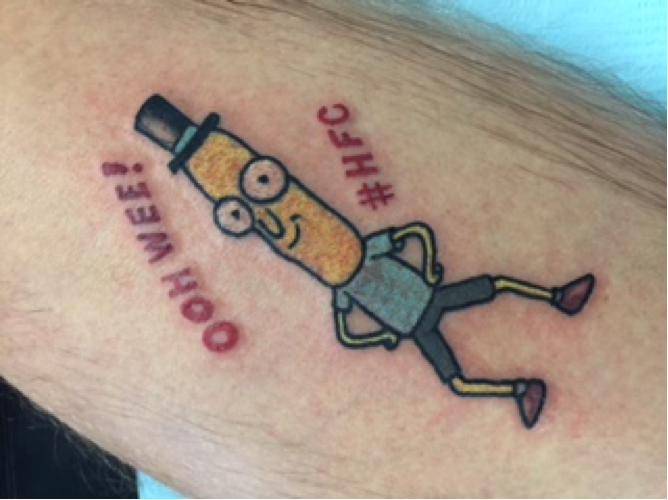 –avisobling
Avisobling,

That looks irritated. Go heavy with the lotion.

–E.B.
---
Question,

Hello, I was just curious, whatever happened to sea lab? Or Harvey birdman attorney at law? Thanks!

–Lex
Dear editor

My name is Jerrod Stevenson, I'm an aspiring cartoonist whose currently in the works of making an animatic that I would like to pitch to Cameron and Alfred, or whomever else at AS that listens to pitches.

I watch Development Meeting and would like some info about how you go about pitching ideas. I undertake Cameron and Walter take live pitches on the air, but I'm sure it's extremely hard to get through. If I didn't go through the live podcast how would I go about getting my information to you.

I know you all probably get a million crazy E mails and questions a day, and are more than likely extremely busy but if you could provide me this information it would be very, very appreciated. I'm willing to drive to Atlanta and do it like that if need be.

–Jerrod S.
Jerrod,
Do not drive to Atlanta. Stop assuming that you can't get through to
Development Meeting
. Make that call. Try every week until you get through. Have examples of your work ready. Pitch with confidence.
There's no greater shortcut.
–E.B.
---
App,

HI! I just wanted to reach out and extend a hearty wtf! You guys have an iPhone app but no apple tv app. You're killing me! Other than that keep doing what you do. Thank you for your time.

–Joe T.
Joe,

We will relay your request down the hall.

–E.B.
---
Holy shitsnacks, I just finished watching "Scavengers" and was absolutely floored. Whether this short ever was intended to be a pilot, it most certainly could have been, and it deserves a series. Full run! My fistful of dollar bills is being waggled about vehemently in the air, if only someone would reach out and snatch it away.

Disorderly,
James D.
James,
Nice to hear it resonated. Perhaps it'll return. In the meantime,
enjoy it again
.
–E.B.
---
Dear [as],

I have an idea for a show, but I'm not sure whether it's suitable for [adult swim] or...the other network. What should I do? Do you guys experience this "borderline" problem often?

-Tom
Mapping Advice,
Hello. I'm an incoming college freshman seeking advice. What did you do to get into the industry and work for Adult Swim? Is the best advice just to create, create and create while in college regardless of your major?

–Joe R.
Joe,

Be distinct. Trust your voice. Avoid 'mapping' your life. Many days, we completely wing it.

–E.B.
---
Attention Mr. Editor guy, i just recently remembered the show space ghost coast to coast and i watched a few clips on YouTube and i realized now how amazing and funny it was i think you should make room in your lineup to re air the show even if its at 3 am it would be awesome thanks!

-Dustin
Dustin,
Firstly, it's Ms. Baker.
Secondly, would you settle for a
24/7 stream
?
–E.B.
---
Hello,

How was your holidays? I wound up in the hospital for a few days. Bad heart. But it was still alright.

But didn't see my favorite holiday program. "Dethmas" from Metalocalypse on AS. So I'll have to binge watch my DVDs.

As you can tell, I have NOT given up on Metalocalypse.

–Holly K.
Holly,

Nor have you given up on physical media.

–E.B.

P.S. Glad you're on the mend.
---
I'm drunk watching Rick and Morty on Hulu's Adult Swim and all of a sudden I thought: what if Adult Swim had its own network and just didn't have to come on at night?! What if yall could have yalls own network that came on any time so us drunks and stoners didn't have to wait so long to see yalls trippy ass shit commercials? Anyway I can't type anymore cuz I'm bout to puke but yall should seriously consider my idea. And if yall don't, at least put my email (or name: "Tyler") in one of yalls commercials.

–Tyler M
Tyler,
Williams Stream
is exactly what you seek—the best stuff for all you drunks and stoners, whenever you want.
–E.B.
---
Everyone needs a Grandma,

I recently realized that I am your oldest viewer. I watch adultswim 6 nights a week (Saturday is frisky night with Grandpa) Since everyone needs a Grandma and clearly, I'm a special Grandma, I request your consideration. Consider me for adultswim's Grandma.

–Michelle M.
Michelle,

Done. You are now our grandma.

Send cookies to 1065 Williams Street, Atlanta, Ga. 30309.

–E.B.
---